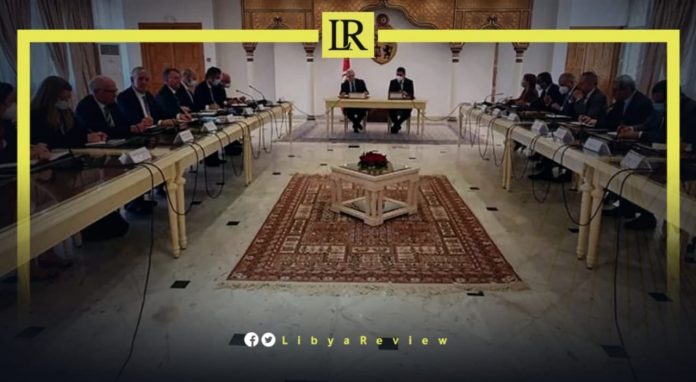 On Thursday, the Tunisian Foreign Minister, Othman Al-Jerandi, received the Ambassadors of the G7 and the Ambassador of the European Union (EU), to discuss recent developments in Libya.
The G7 consists of the United States (US), Japan, Germany, France, Italy, Canada and the United Kingdom (UK).
According to a statement by the Tunisian Foreign Ministry on Friday, the meeting came to exchange views on a number of issues of common interest at the regional and international levels, and the situation in Libya.
"The meeting also reviewed developments in Libya and the challenges that follow in the humanitarian, security, political and economic dimensions," the statement added.
Al-Jerandi stressed that the stability of Libya is a collective responsibility, given the negative repercussions on the region, if there is any stumbling block in the political process.
The Tunisian top diplomat also touched on topics such as the terrorist threats in the Sahel and Sahara region and the need for regional and international efforts to unite to confront them.
Last month, Al-Jerandi reaffirmed his continued support for Libya to complete its political path. He also called for the need to stop foreign interference in Libyan affairs.
Al-Jerandi met with Mohamed Issa, the Secretary of State for Libya's Foreign Ministry, on the sidelines of his participation in the 48th session of the Council of Foreign Ministers of the Organization of Islamic Cooperation (OIC).
The meeting dealt with bilateral relations between the neighbouring countries and ways to enhance them, and the developments in the political situation in Libya.
Earlier, the Tunisian top diplomat confirmed the support of Tunisia's President, Kais Saied, who said he underwrites everything that would consolidate stability and security in Libya and the region.
He stressed the need to preserve Libya's security and stability as well as its territorial integrity as a pivotal and principled issue for his country and a pillar of security and stability in the region.