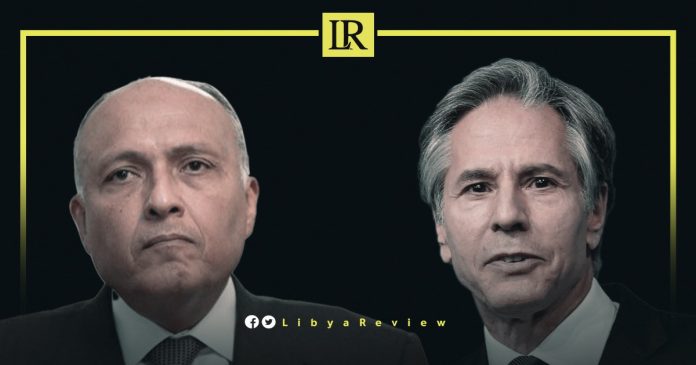 US Secretary of State, Antony Blinken discussed the Libyan crisis with his Egyptian counterpart Sameh Shoukry, in Washington DC.
The US Department of State said in a statement that Blinken and Shoukry affirmed their support for Libya's UN-facilitated political process, toward elections.
Cairo is hosting a fresh round of talks between representatives of Libya's two rival legislatures.
"The ultimate solution to the issues that continue to plague Libya is through elections, held on a solid constitutional basis, and electoral framework that provides the guard rails for an electoral process," UN adviser, Stephanie Williams told the opening session of the talks in Cairo.
Last week, Blinken announced a ten-year strategy to prevent conflicts and enhance stability, targeting Libya, Haiti, Mozambique, Papua New Guinea, and the West African coast.
"Together with our partners, we will implement the 10-year strategy to prevent conflict and promote stability," Blinken tweeted.
US Ambassador to Libya, Richard Norland said the strategy to promote stability in Libya shows a sustained US commitment that goes beyond the short term.
"We are working toward Libyan reconciliation and re-unification, under an elected government accountable to Libyans," Norland said according to the US Embassy in Libya.
Libya's Prime Minister-designate, Fathi Bashagha welcomed Blinken's announcement. He reaffirmed that Libya will "be a partner for peace, prosperity, and self-determination to our friends and neighbours."
"The people of Libya welcome the opportunity to work with US State Department, and Secretary Blinken to promote stability here and throughout our region," Bashagha tweeted.
Notably, Libya's Minister of Planning, Mohamed Al-Zaydani held a meeting with representatives of the US Agency for International Development (USAID).
In a statement, the ministry said that the meeting discussed the roadmap for carrying out reforms in the electricity sector. In order to help Libya become more economically self-sufficient.