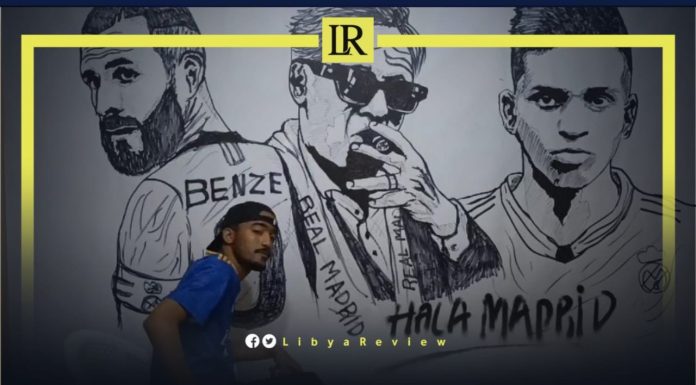 A Libyan artist, Ahmed Mahmoud, who goes by the name 'Amedo' has stunned people by showing him drawing using an ordinary lawn chair. The subjects of the special drawing were players of the Spanish club Real Madrid, Rodrygo and Benzema, in addition to the team's manager Ancelotti.
The Spanish newspaper MARCA published the video, and described the work as great.
He stated that "it was a super hard challenge and took weeks of practice," but he "was able to meet his amazing target in the end."
Others described how gifted he was and showed a huge amount of support saying: "Mind blown, Amazing talent!, His art should go viral, mashallah, so proud."
Notably, Amedo previously published a video showing him drawing six portraits using both his hands and feet at the same time. Both the time-lapse videos went viral on social media, with people lauding his remarkable skills.
He also admitted that making multiple portraits at once takes weeks of preparation. Amedo not only draws on canvas but is also a master of graffiti. Some of his wall art is seen on his Twitter profile, including large portraitures and anime art, as well as cartoon characters.
Among the drawings, the Libyan artist has painted two famous football players, the Argentine footballer, Lionel Messi and the Portuguese footballer, Cristiano Ronaldo.
Amedo began drawing in 2018, and currently attends medical school. He hopes to become a successful artist in the future.
In November, Libyan Painter, Shefa Salem offers remarkable canvases in the show "I am Libya," indicating that audiences are ready to learn about Libya's historical heritage.