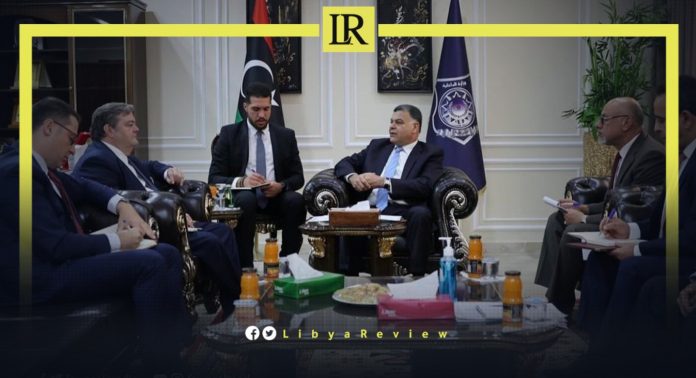 On Tuesday, Libyan Minister of Interior, Khaled Mazen discussed strengthening cooperation with the Spain Ambassador to Libya, Javier Larrache.
According to Fawasel Media, the meeting discussed cooperation between Libya and Spain with respect to illegal migration, combating terrorism and organized crime, money laundering, protecting antiquities, and the granting of visas.
In March, Libya's Prime Minister-designate, Fathi Bashagha met with Larrache in Tunis. They discussed the latest developments in Libya's political situation, stressed the need to avoid violence, and support peaceful and legal solutions.
They affirmed the need to hold Parliamentary and Presidential elections within a specific date, Bashagha's media office said.
Bashagha also confirmed the "great relations with Spain" and the possibility of working together in various fields, such as energy, counter-terrorism, combatting organized crime, agriculture, water security, and others.
Earlier, Spain's King Felipe VI stressed the necessity of strengthening relations with Libya, and supporting national reconciliation in the country.
In his speech during a ceremony in the presence of Ambassador Larrache, he stated that Madrid wants to be a "pivotal and effective partner in the process of national reconciliation, led by the Libyans under the auspices of the United Nations."
He also stressed the need for Madrid to contribute to establishing peace, stability, and prosperity in Libya, and the Mediterranean region as a whole.
In turn, Larrache emphasised that "any progress in the stability of the Libyan arena will help cooperation between the two countries," noting that Madrid is studying the return of its companies at the present time.
Energy giant Repsol constitutes Spain's main economic presence in oil-rich Libya. In June, Spanish Prime Minister, Pedro Sanchez paid a visit to Tripoli, during which he said that Madrid wanted to support Libya's political process.
A flurry of diplomatic activity has broken out since a new transitional unity government was installed last year, following an October ceasefire between rival camps in the country's east and west. "This is a historic moment for Libya, a great opportunity, and Spain wants to be at its side," Sanchez said during a news conference with Prime Minister, Abdel-Hamid Dbaiba.
Sanchez said Spain wanted to support Libya's election process, and announced it would "contribute to the Libyan ceasefire monitoring mechanism to guarantee security and the upholding of peace".
The two sides also announced the reopening of Spain's Embassy in Tripoli, which has been shut since 2014. It follows moves from several countries, including France and Greece in recent months.