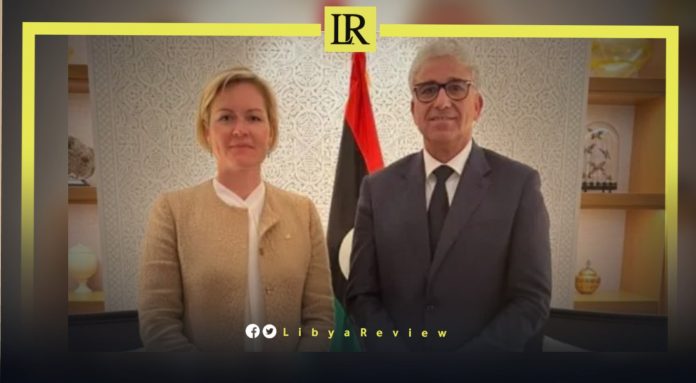 On Thursday, the Libyan Prime Minister-designate, Fathi Bashagha received a telephone call from Caroline Hurndall, the UK Ambassador to Libya. They discussed the recent military escalation by armed groups in Tripoli.
During the talks, Bashagha stressed his government's commitment to upholding the ceasefire agreement, and ensuring the safety of civilians. He called on the international community to contribute to these efforts.
The two sides also discussed the role of Libyan financial institutions in funding illegal military operations in Tripoli, and agreed on the need to take strict actions in this regard
The Libyan Premier expressed his appreciation for the UK's efforts to support the democratic process, and ensure security and stability in Libya.
Earlier today, the European Union voiced its "deep concern" following the recent armed confrontations and incitement to violence in Tripoli.
In a statement, it called for calm and underlined that "violence would only threaten Libya's unity, stability, and prosperity." It also recalled the "importance of protecting civilians and urged all actors to refrain from actions that could undermine the ceasefire agreement. There is no alternative to a political solution."
Violent clashes erupted on Tuesday in Tripoli after Bashagha failed to enter the capital. Bashagha's media office said the PM left Tripoli hours after his arrival, "to stop the bloodshed and ensure the safety and security of the people."
He had entered overnight, accompanied by allied fighters in the hope of taking over the government headquarters. He was quickly met by opposition from forces aligned with the GNU. This is Bashagha's second failed attempt to enter Tripoli.
Bashagha condemned the armed escalation carried out by the militias in Tripoli. He said he was surprised by the "dangerous military escalation," despite him and his ministers entering Tripoli peacefully.
He also condemned the endangerment of civilians describing it as "a crime punishable by law." He stressed that his government cannot "contribute to compromising the security of the capital, and its residents."