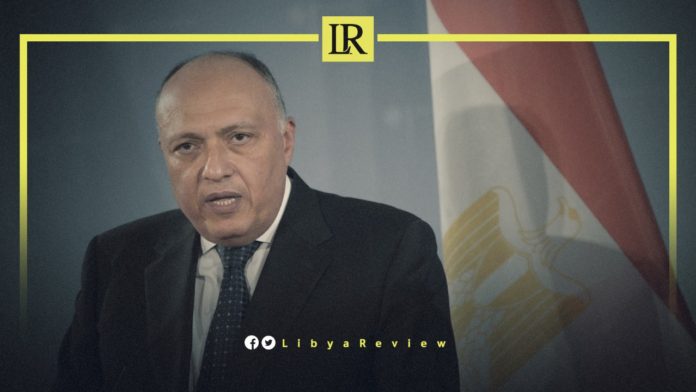 The Egypt Foreign Minister, Sameh Shoukry, called for concerted international efforts to get mercenaries, foreign forces and foreign fighters out of Libya.
During a joint press conference in Egypt with his Latvian counterpart, Edgars Rinkēvičs, Shoukry said that the presence of militias, foreign forces and mercenaries in Libya restricts the freedom of the Libyan people to determine their future.
Shoukry also stressed the importance of holding general elections in Libya on schedule. He affirmed the need to reach a Libyan-Libyan solution away from foreign interference.
The Egypt top diplomat said that the outcomes of the solution to the Libyan crisis in international conferences must be taken care of. He also stressed the need to take into account the decisions of the Libyan House of Representatives (HoR) regarding the executive authority.
It is worth noting that the HoR appointed Fathi Bashagha to replace the outgoing Prime Minister of the outgoing Government of National Unity (GNU), Abdelhamid Al-Dbaiba. However, Al-Dbaiba refuses to cede the power to Bashagha.
"The Libyan parties are meeting in Cairo to discuss consensus on a constitutional framework that will enable the Libyan people to hold presidential and legislative elections and maintain Libya's stability," according to Shoukry.
For his part, the Latvian Foreign Minister stressed the need for foreign parties not to interfere in Libya's internal affairs.
He also pointed out to the necessity of coordinating positions between international powers, forming a single government, and moving forward with an electoral political process in Libya without any military obstruction.
On Wednesday, United Nations (UN) Secretary-General, António Guterres' Special Adviser on Libya, Stephanie Williams, held a meeting with the Speaker of the Libyan HoR, Ageela Saleh, in Qubba city to discuss the latest developments in the North African country.
In a statement, the UN Support Mission in Libya (UNSMIL) said that the Speaker affirmed his full support for the constitutional process sponsored by the UN mission between the Parliament and the High Council of the State (HCS) and hosted by Egypt.
Both sides discussed plans for next week's final round of the Joint HoR/HCS Committee talks aimed at establishing the constitutional framework needed to take Libya to comprehensive national elections as soon as possible.