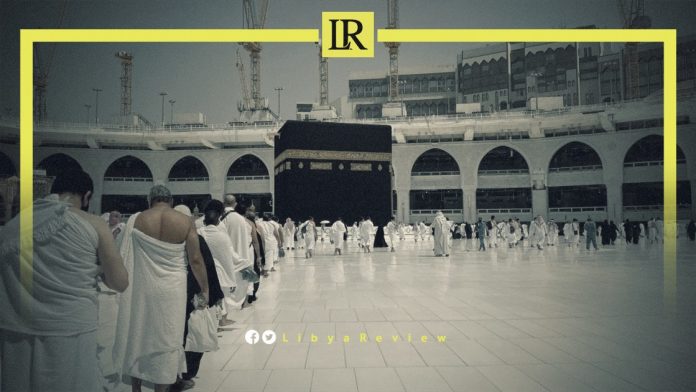 The Hajj coordinator for the Greater Tobruk region, Gamal Muhalhal, said that a flight is being prepared to Jeddah.
In press statements, Muhalhal added that the number of pilgrims from the region for 2022 is 147. "We will provide transportation and all services for pilgrims during this trip, with the cooperation of all parties," he said
The Greater Tobruk region includes the municipalities of Labraq, Al Qayqab, Umm Al-Rum, Al Qubah, Derna, Tobruk, Imsaad, and Bi'r al Ashhab.
All procedures to obtain visas, seasonal vaccinations, and COVID-19 vaccines have been taken. He confirmed that distinctive cards for pilgrims were prepared for this region.
Earlier this month, the Libyan General Authority for Hajj and Umrah Affairs met with the Holding Company for Aviation and the Libyan Airlines company. They discussed the transportation of pilgrims to Saudi Arabia this season.
During the meeting, an agreement was reached with the Libyan Airlines company to be the official carrier of pilgrims on board its A330 aircrafts, starting from 24 June. The meeting was attended by the Undersecretary of the Libyan Ministry of Transportation.
Notably, the Libyan General Authority formed a committee to follow up on the developments related to the measures taken by Saudi Arabia to organise the Hajj season for 2022.
In a statement, it stated that the current Hajj season is exceptional given the closures after the COVID-19 pandemic. It added that Libya's share of pilgrims was set at 3,531.
The Saudi authorities also stipulated that pilgrims should not exceed 65 years. This means that it is not possible to send the full number, chosen by lottery for 2020 and 2021.
The Saudi authorities attributed this to the measures announced by the Ministry of Hajj. The foremost of which is allowing one million pilgrims across the Islamic world to perform Hajj this year.