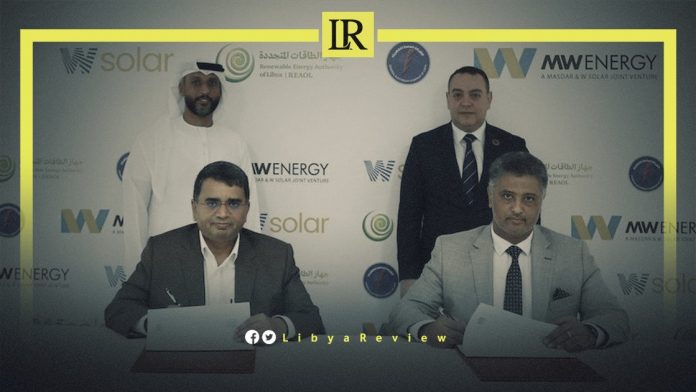 On Monday, the General Electricity Company of Libya (GECOL) signed a Memorandum of Understanding with W Solar Investment of Alpha Dhabi Holding. This is to develop a strategic long-term partnership in the renewable energy sector in Libya, according to Emirates News Agency (WAM).
The Emirati firm will invest in the green energy sector in Libya by building solar photovoltaic power generation plants, and selling the net delivered energy from the plants to the Libyan government.
The MoU is considered a significant step between the public and private sectors in the green energy sector.
GECOL's Chairman, Weam Elabdelie said "the MoU with W Solar is important to the economic reform for the renewable energy sector in Libya. The Libyan government has been showing serious intentions to develop renewable energy. As we get on with unleashing investments in the renewable energy sector, having a partner like W Solar will definitely help accelerate the national green energy agenda."
CEO of W Solar, Zafar Muhammad said it is a landmark agreement for his firm. "We look to grow our operations in Africa and establish long-term relationships with key partners," he explained.
"With this MoU, W Solar is entering a new growth phase, and we are committed to bringing this cooperation to the next level," Muhammad added.
The solar photovoltaic programme will be designed to produce 500 MW in its first phase, with a long-term target of 2000 MW.
W Solar Investment will own and operate the project for 25 years, from the start of production. By 2030, Libya aims for 22% of electricity generation to come from renewable energy.
Libya is also in the process of implementing its National Energy Efficiency Action Plan (NEEAP). It has been a member of the Regional Center for Renewable Energy and Energy Efficiency (RCREEE) since 2008.