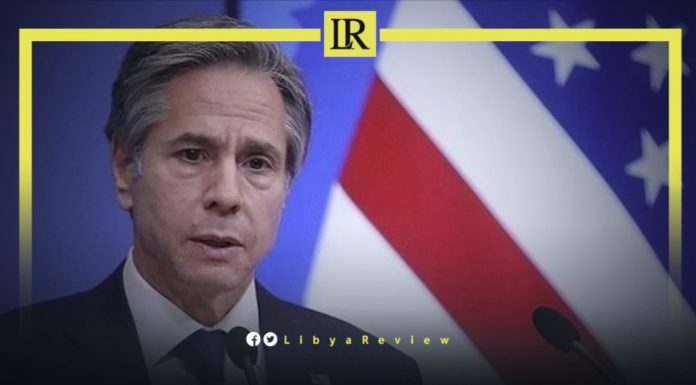 US Secretary of State, Antony Blinken welcomed an African proposal to organize a Libyan reconciliation conference, before holding general elections.
These remarks came during a telephone conversation with Congolese President, Denis Sassou Nguesso. They discussed the latest regional developments, especially with regard to Libya, in addition to preparations for the upcoming US-African summit, the US Department of State said in a statement on Thursday.
Blinken emphasized American support for Libya's Presidential and Parliamentary elections on 24 December. As well as urging Libya's leaders to take the steps necessary to ensure free and fair elections, as outlined by the Libyan Political Dialogue Forum (LPDF) roadmap, including the need for a constitutional and legal framework.
During the talks, Blinken also praised the efforts made by the Democratic Republic of the Congo in particular to settle the Libyan crisis.
In this capacity as the Chairman of the African Union High-Level Committee on Libya, President Nguesso praised the US role in resolving the Libyan conflict. He added that he hoped that they would focus on restoring peace in the North African country.
Both sides agreed on the need for a sovereign, stable, and unified Libya without foreign interference, according to the statement.
In July, the Chairman of the African Union Commission, Moussa Faki called on the warring parties in Libya to silence their guns, and to refrain from all forms of violence.
Tensions have been rising for months in Libya as two prime ministers vie for power; raising fears of renewed conflict two years after a landmark truce.
On 22 July, fighting in the heart of Tripoli left 16 dead, and about 50 wounded.
Incumbent PM, Abdel-Hamid Dbaiba was appointed as part of a United Nations-backed peace process in 2021, to end more than a decade of violence in the North African country.
His transitional government had a mandate to lead the country to elections in December. These failed to take place due to divisions over the electoral laws, and several controversial candidates.