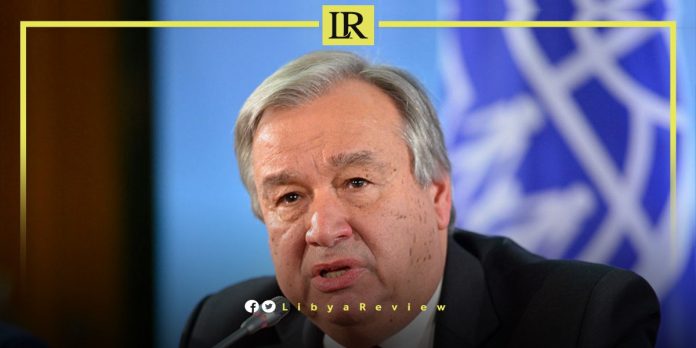 On Wednesday, the United Nations Secretary-General, Antonio Guterres called on all political actors and institutions in Libya to "exercise responsible leadership in order to prevent worsened long-standing disagreements that could lead to further instability."
In a report addressed to the UN Security Council, Guterres added that the "outcomes of the Cairo and Geneva talks represented massive progress that all parties should benefit from." He also urged the relevant Libyan institutions to "finalize the constitutional basis, and pave the way for holding elections without further delay."
Guterres reiterated the importance of maintaining the progress made on the security track, since the signing of the ceasefire agreement in October 2020. He hailed the work of the 5+5 Joint Military Commission (JMC), and encouraged the Libyan authorities to "take more practical steps in order to unify the armed forces, in addition to preparing for disarmament, demobilization, and reintegration."
Guterres said that the UN will "continue to support the 5+5 JMC to implement all the terms of the ceasefire agreement, including the implementation of the action plan related to the periodic and balanced withdrawal of mercenaries, foreign fighters, and forces." He added that they remain "committed to supporting the work of the Libyan ceasefire monitors, in establishing a monitoring mechanism in Sirte."
Guterres noted that "Libyan oil belongs to all Libyans and should not be held hostage to political strife." As well as "respect and preservation of the independence of the sovereign economic and financial institutions in Libya, including the National Oil Corporation (NOC) and the Central Bank of Libya (CBL)." He called for the prosecution of those responsible for impeding the use of resources.
Notably, Libya's Health Ministry reported that 32 people had been killed, and 159 wounded during the clashes.
Fighting broke out in various districts of Tripoli between groups armed with both heavy and light weapons, as two rival governments yet again vie for power in the oil-rich but impoverished North African country.
Gunshots and explosions rang through the darkened streets of Tripoli, according to media reports.
Libya has had two competing governments since March, when the eastern-based Parliament appointed Fathi Bashagha to replace Dbaiba. This renewed a standoff between the east and west of the country. Dbaiba, who was chosen as interim Prime Minister over a year ago in UN-backed talks, has refused to cede power to Bashagha.
The oil-rich country had descended into turmoil and violence following the 2011 NATO-backed uprising that toppled long-time ruler Muammar Gaddafi.
Last month, the United Nations Secretary-General António Guterres reiterated the commitment of the UN to "support a Libyan-led and Libyan-owned process to address outstanding challenges. As well as ensure the holding of Presidential and Parliamentary elections as soon as possible."