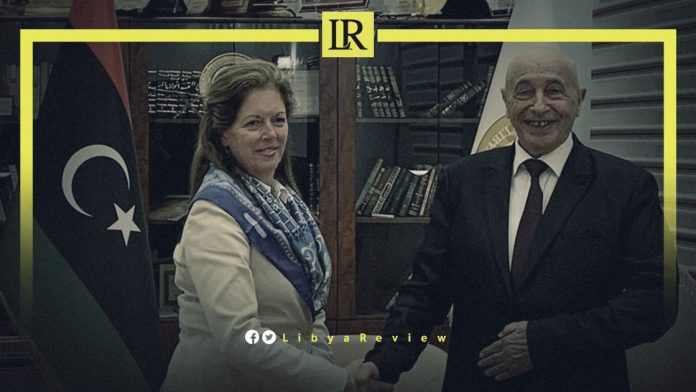 On Wednesday, UN Secretary-General Antonio Guterres' Special Adviser on Libya (SASG), Stephanie Williams held a meeting with the Speaker of the Libyan Parliament, Ageela Saleh to discuss the latest developments in the country.
In a statement, the UN Support Mission in Libya (UNSMIL) said that Ageela Saleh affirmed his full support for the constitutional process between the Parliament, and the High Council of the State (HCS) and sponsored by the UN mission.
The two sides discussed plans for next week's final round of talks aimed at establishing the constitutional framework needed to take Libya to comprehensive national elections, as soon as possible.
Williams also briefed the Speaker on the series of meetings held in Tunis yesterday, including the international Security Working Group on Libya. This featured discussions with the 5+5 Joint Military Commission (JMC), and the international community, in which they voiced their unified support for finalising work on the constitutional track.
Williams stressed that "these elections will fulfil the aspirations of over 7 million Libyans, who have the internationally recognised fundamental right to go to the ballot box, and to elect those who represent them in Presidential and legislative elections."
These developments were welcomed by the Prime Minister-designate, Fathi Bashagha, who said that the "rapprochement between the Libyan Parliament and the High Council of State … will allow for a transition of power via elections that reflect the will of the Libyan people".
In March, Williams invited the two bodies to each nominate six members for a joint committee on Libya's constitutional arrangements.
Libya's political process fell apart in December with the collapse of the scheduled elections. Major factions and political bodies opposed plans for the path ahead and backed rival governments.
Notably, Libya is currently facing a political crisis after the Libyan Parliament swore in Bashagha, to lead a new interim government in February. MP's argued that incumbent Prime Minister, Abdel-Hamid Dbaiba's mandate expired when elections failed to take place in December.
Dbaiba has since refused to cede power, and warned that the appointment of a new government could lead to war and chaos in the country. He renewed his pledge to only hand power over to an elected government.