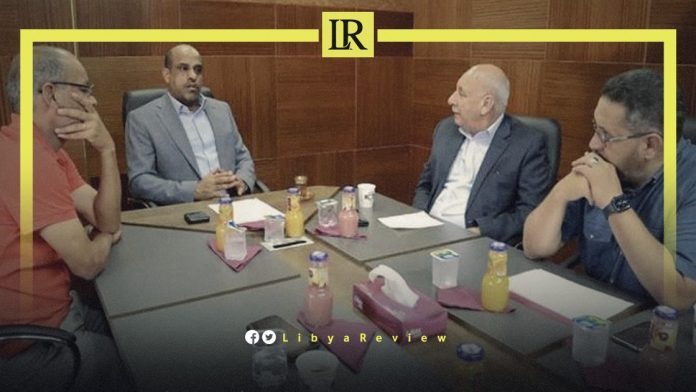 Libyan Sports Minister, Abdel-Shafie Al-Juweifi stressed the importance of intensifying efforts to establish stadiums and sports halls with international specifications, to develop the sports sector in Libya.
During a meeting with the Deputy Director of the Administrative Centers Development Authority, and the Director of Projects in the Authority, Al-Juweifi discussed the reasons for failing to begin work on some important and urgent projects related to the sports sector. As well as the failure of some projects, and the failure to adhere to the timetable for each project.
On Tuesday, he met with the Minister of Labour and Rehabilitation, Ali Al-Abed Al-Ridha. They discussed ways to enhance joint cooperation and coordinate efforts between the two ministries. They also reviewed training mechanisms, and ways of raising the capabilities and efficiency of workers in sports clubs.
Notably, the Sports Ministry recently conducted a maintenance and development program for Libya's southern stadiums. This maintenance contributed to raising the efficiency of the sports infrastructure in southern-based clubs.
Last month, the Confederation of African Football (CAF) renewed the adoption of Benina Stadium in Benghazi, to host the four Libyan teams participating in African competitions.
CAF approved 55 stadiums, including Benina, to host the African Champions League and CAF Confederation Cup competitions in the next season.
Notably, the Al-Ittihad and Al-Ahly Tripoli teams will participate in the CAF Champions League, while Al-Akhdar and Al-Nasr in the CAF Confederation Cup.
In May, a CAF Inspection Committee visited Benina Stadium to determine its readiness to host international matches for Libyan clubs and teams.
It granted an exceptional temporary deadline to the Libyan Football Association to carry out some repairs related to its pitch, conference rooms, and changing rooms. Benina remains the only CAF-approved stadium in Libya.
The lifting of the ban on Libya's stadiums was announced last year. A delegation from the African football authority visited to inspect the stadiums, and gauge the security situation in the country. No stadiums were ready to host international matches, except for the Benina. This was opened in 2009, temporarily, until the maintenance of the Sports City Stadium in Benghazi is completed.
Libya's national team and its clubs competing in African club competitions have been forced to host their matches in neighbouring countries including Egypt, Mali, and Tunisia since the ban was imposed.
An initial restriction was ordered by FIFA in 2011 during the civil war that led to the ousting of Muammar Gaddafi. It was lifted briefly in 2013, before being reimposed.