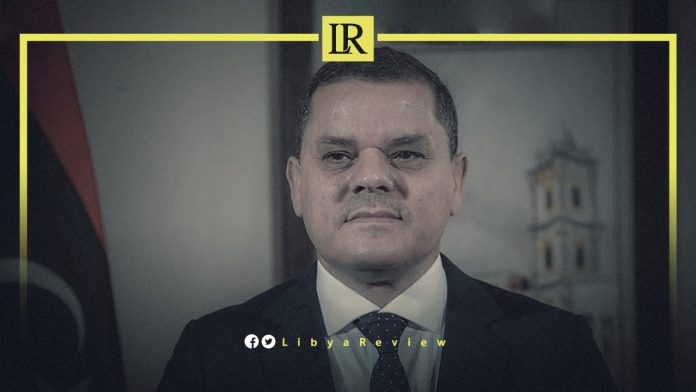 On Thursday, Prime Minister of Libya's Government of National Unity (GNU), Abdel-Hamid Dbaiba expressed his "reservations on certain observations in the report issued by the Audit Bureau for the year 2021."
In remarks during a cabinet meeting, Dbaiba said that "these observations are politicized," claiming that "they were issued by rivals of the government, especially Audit Bureau Head, Khaled Shakshak." As he was a candidate in the postponed December Presidential elections.
"The Audit Bureau's report regarding the government expenditures has distorted me personally, and all the ministers. But we will say that these observations are true until proven otherwise. We allowed the Audit Bureau to monitor the government's performance, but this does not mean manipulating the numbers and making shocking reports to the people," he said.
The report, which was composed of 18 chapters, monitored the financial situation of the country and the results of reviewing and evaluating the performance of various sectors.
Among the violations of the GNU, large sums of money were spent from the emergency expenses band, unrelated to the nature of the account, such as booking travel tickets and hotel accommodation.
The GNU Cabinet Office spent 12 million Libyan dinars (LYD) to buy watches as gifts for the guests of Prime Minister, Abdel-Hamid Dbaiba. As well as the maintenance and cleaning expenses for Dbaiba's suite, which amounted to 1.6 million LYD per month.
The government also directly assigned contractors for development projects, as an alternative to public tenders. This is a clear deviation from the principles of integrity and transparency and is in violation of the organizing regulations and legislation.
The entities which received these funds evaded the Audit Bureau review. These funds amounted to about 20 billion LYD, representing contractual commitments that have no financial coverage.
The report monitored an exaggeration in expenditures, such as spending by the GNU Cabinet Office to supply meals (breakfast, lunch, and dinner) during the months of June and July, which amounted to more than 1.9 million LYD.
Millions were spent on supplies, phones, computers, and maintenance of cars and offices, in violation of the regulation of the administrative contract. Flight tickets and hotel reservations were also booked for people who have no relationship with the Cabinet Office.
The Audit Bureau report mentioned that Deputy Prime Minister, Ramadan Abu Janah spent 337,000 LYD on housing and expenses in Tripoli's Radisson Blu Al-Mahary Hotel.
The report also included numerous violations by several ministries, such as the spending of 155,000 LYD by the Ministry of Higher Education to purchase iPhone 13 Pro Max phones for employees.