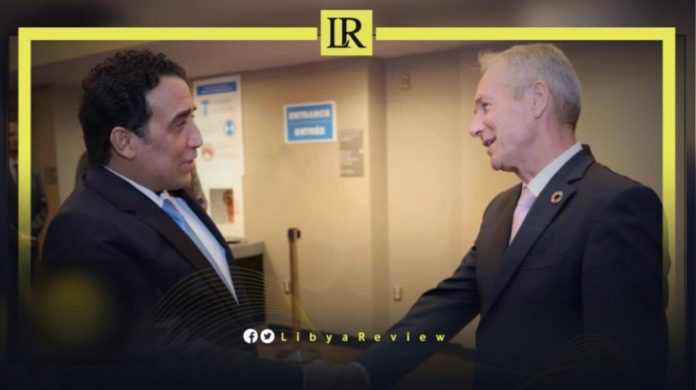 The President of the United Nations General Assembly (UNGA) for the 77th session, Csaba Kőrösi confirmed the UN's support for stability in Libya, through free and transparent elections.
This came in his meeting with the Head of Libya's Presidential Council, Mohamed Al-Mnifi. Al-Mnifi congratulated his Hungarian counterpart for assuming the Presidency of the General Assembly at its current session.
The meeting dealt with the latest developments in Libya, especially the political, economic, and security situation.
They also reviewed the Presidential Council's National Reconciliation Project.
Last week, the United Nations Support Mission in Libya (UNSMIL) confirmed its commitment to achieving peace in Libya.
On the International Day of Peace, UNSMIL said it is committed to achieving peace in Libya, "through an inclusive Libyan-led and -owned process. "
UNSMIL explained that it will "continue to engage with all Libyan actors to advance the peace process and the elections the Libyan people demand. "
On Tuesday, the former Head of the UN Mission in Libya (UNSMIL), Ian Martin stressed that "the situation in Libya has turned into a political armed conflict fueled by external parties."
In press statements, he said: "the role of the United Nations in providing assistance to pushing forward the political track in Libya has been weakened. There are also major obstacles that hinder Libyans' ability to get out of their crisis."
Martin also added that holding the 2012 elections was a purely Libyan decision, before the country became fertile land for regional interference. This led to the emergence of deep divisions, and subsequent conflicts.
He added that the new envoy to Libya, Abdoulaye Bathily faces a number of challenges, notably foreign interference and regional conflict.
Earlier this month, the UN Secretary-General, António Guterres, announced the appointment of former Senegalese Minister and UN diplomat, Abdoulaye Bathily, as the new UN Envoy to Libya, after the Security Council gave its approval.