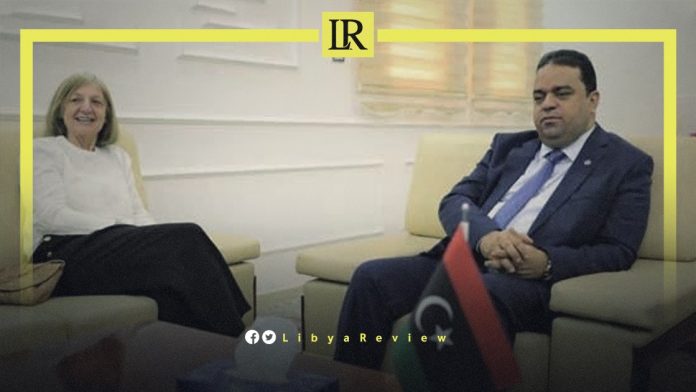 Libyan Minister of Labour, Ali Al-Abed met with the French Ambassador to Libya, Béatrice le Fraper du Hellen. They discussed bilateral relations, especially opportunities in the training, rehabilitation, and employment sector.
The two parties reviewed the programs and projects that the ministry intends to implement. This is especially in the field of vocational training, and support for the ministry's training centers. They agreed to urge French companies operating in Libya to employ and train local staff.
According to the ministry's statement on Monday, Al-Abed affirmed the depth of relations between the two countries, noting the importance of continuing joint cooperation at all levels.
The meeting also "discussed the participation in implementing the national project for rehabilitation and reintegration in Libya." A memorandum of understanding was also signed regarding teaching the French language to ministry staff, in cooperation with the National Institute of Administration.
The French Ambassador praised the joint cooperation, expressing Paris' readiness to provide technical support and the necessary training in capacity building for young job seekers, graduates, and employees.
Notably, the Shanghai University Quality Index has excluded Libya from the 2022 world ranking, while universities from the countries of the Middle East and North Africa region appeared in the index.
Al-Abed said that the outcomes of Libyan education are not in line with the needs of the labour market. "There are thousands of students graduating annually from various disciplines in an unstudied manner."
Early in September, the Libyan Minister of Education, Musa Al-Maqrif said that 20% of the ministry's employees are not qualified to work in the education sector. The minister added that his "ministry does not bear the responsibility for Libya's exit from the Global Forum on Quality Education."
He pointed out the "importance that the stability of the general political situation and the economic situation plays in the quality of education."