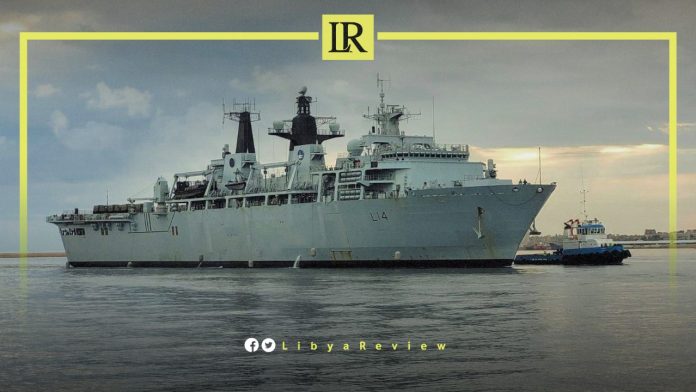 A United Kingdom (UK) Royal Navy Task Force completed a mission in Libya as part of broader security operations in the Mediterranean, the UK Royal Navy reported on Friday.
HMS Albion, the flagship of Littoral Response Group North – a UK force designed to react to crises in European waters – sailed into the Libyan capital Tripoli on Wednesday, becoming the first Royal Navy ship to visit the port in eight years.
There, Plymouth-based Albion – the Royal Navy's amphibious flagship – was the floating venue for events with political and military figures in Libya, while sailors and Royal Marines shared expertise with Libyan officers.
It included delivering valuable RN training to the Libyan Navy in firefighting and damage-control techniques, engineering practices, seamanship and harbour surveying, using Albion as their classroom.
HMS Albion's Warrant Officer, Adam Slack, who led one of the training teams, said, "being able to work collaboratively with the Libyan Navy has been a fantastic opportunity and one that would have been inconceivable just a few years ago. "I hope that in the future we will continue to work together and build a stronger maritime relationship with Libya," he added.
Around a hundred Libyan and foreign dignitaries were hosted aboard Albion – along with UK Ambassador to Libya, Caroline Hurdall and the Senior Defence Adviser to the Middle East, Air Marshall Martin Sampson Royal Air Force. More than a thousand sailors and Royal Marines were deployed with the task force.
On Wednesday, the UK Embassy in Libya announced the arrival of HMS Albion in Libya. In a tweet, the Embassy said, "this morning HMS Albion docked in Tripoli, the first visit by the UK Royal Navy to Libya in 8 years. The ship's crew is looking forward to a great day with their Libyan Navy counterparts."
It added that the UK is "committed to working with all Libyan partners for greater stability."