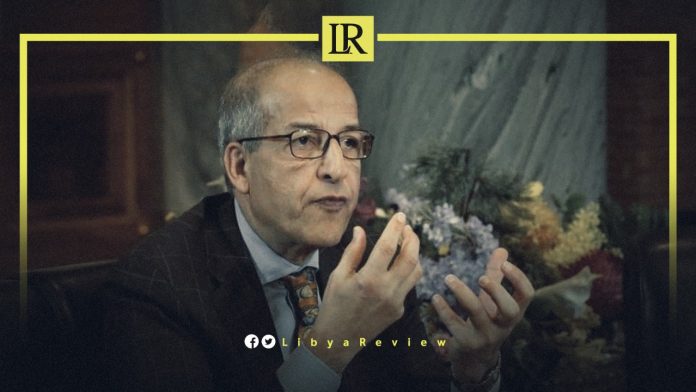 Libyan Member of Parliament (MP), Jibril Ouhaida, called on the Attorney General to investigate Al-Siddiq Al-Kabeer, the Governor of the Central Bank of Libya (CBL), on charges of spying for the United Kingdom (UK).
MP Ouhaida said in press statements that Al-Kabeer's reception of Britain's HMS Albion military ship confirms that he is "a British man in Libya, and such behavior is classified in Libyan law as espionage with foreign parties."
"Al-Kabeer is responsible for the rampant corruption in Libya because of his funding of the outgoing Al-Dbaiba government and militias," he added.
The Libyan lawmaker also criticised the British military ship by Al-Dbaiba's Foreign Minister Najlaa Al-Mangoush. "The ship docking at the Tripoli Naval Base is evidence of Britain's interference in the Libyan crisis," he explained, stressing that the UK should distance itself from interfering in Libya.
Al-Kabeer appeared on the British HMS Albion, which docked at the Abu Sita Naval Base in Tripoli and left on Friday. He was accompanied by the Deputy Head of the Libyan Presidential Council, Musa Al-Koni.
HMS Albion arrived in Tripoli on Wednesday, in the first visit by the UK Royal Navy to Libya in 8 years. It is part of the Royal Navy's amphibious response force, which sailed towards the Mediterranean on a European security mission.
According to a statement by the Presidential Council, Al-Koni's visit came at the invitation of the ship's Commander, to review aspects of military cooperation between the Libyan and British Navy's. This occurred as the Head of the Presidential Council is the Supreme Commander of the Libyan Army.
Al-Kabeer's appearance accompanied by Al-Koni has sparked controversy, especially since Al-Kabeer is not related to any military responsibilities in Libya.
He was dismissed from his position as Governor of the CBL by the Libyan Parliament in 2014 due to financial irregularities. It appointed Ali Al-Hibri to replace him.
Over the past 11 years, Al-Kabeer committed numerous violations, was involved in corruption cases, and squandered billions of Libyan dinars from state funds. His practices have caused divisions in the country's banking system.
He provided financial support to the Muslim Brotherhood in Libya, paid fixed salaries to extremist militias, authorised suspicious arms deals, opened fictitious lines of credit, manipulated frozen funds, and transferred funds to Turkish banks.
He also misused oil revenues to pay the salaries of the Syrian mercenaries during the 2019 civil war. He furthermore used CBL funds to buy weapons, military equipment, and Turkish drones to support militias in western Libya. His actions prompted Libyan tribes to close oil fields, denouncing the use of money to bring in mercenaries.
Corruption spread in the CBL under the management of Al-Kabeer, as foreign currency was smuggled through documentary credits. Oversight reports monitored abuses within the CBL under his management, the latest of which was issued by the Audit Bureau for the year 2021.