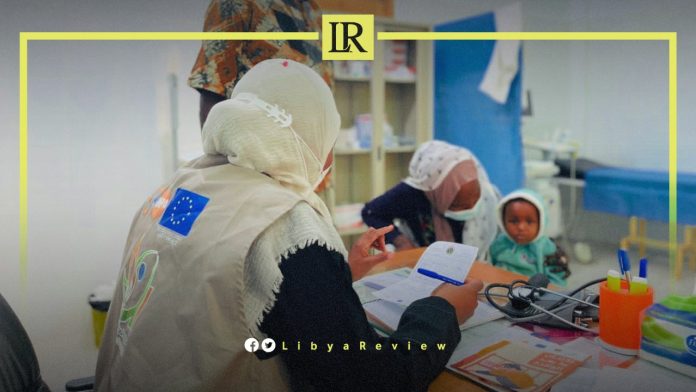 The United Nations Development Programme (UNDP) announced that it continues to provide reproductive health services in Sebha, Tripoli, and Benghazi through mobile medical units.
In a tweet, UNDP added that last week it assisted 190 women with antenatal and postnatal care services, 70 with gynae consultations, and 159 women received general consultations.
It pointed out that this was implemented by the EU Emergency Trust Fund for Africa.
In August, the Resident Representative of UNDP in Libya, Marc-André Franche stressed that Libya needs a political settlement to be able to hold elections.
"While the country needs urgently a political settlement to organize elections, much can be done at the local level to improve livelihoods and social fabric," he said in a tweet.
Last month, Tripoli witnessed violent clashes in which various types of weapons were used between rival forces. Libya's Health Ministry said the death toll had risen to 32, and 159 injuries.
Earlier, Libya's Ministry of Planning held a meeting with Franche at the Corinthia Hotel in Tripoli. The two parties discussed the implementation of the new Country Programme Project for Libya 2023-2025.
According to the Ministry, the meeting was based on upcoming priorities, including raising institutional capacities at the national and local levels. This is to enable the government to "provide the best services, whether basic or social, and to support stability and peace."
UNDP also indicated that more than "25 partners and ministries, with their evaluations and opinions, participated in this program to ensure its successful implementation." The program is due to be presented and approved by the UNDP Executive Board in New York in September.
Libya has been in chaos since a NATO-backed uprising toppled longtime leader Moammar Gaddafi in 2011. The county has for years been split between rival administrations, each backed by various militias and foreign governments.
The current stalemate grew out of the failure to hold elections in December, and the refusal of Prime Minister, Abdel-Hamid Dbaiba to step down. In response, the country's eastern-based Parliament appointed a rival Prime Minister, Fathi Bashagha, who has for months sought to install his government in Tripoli.