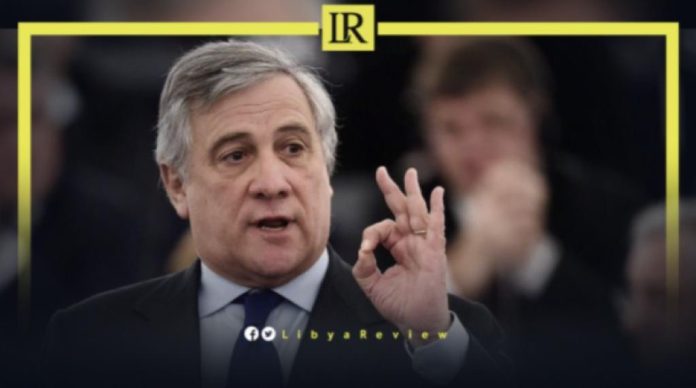 Italian newly-appointed Minister of Foreign Affairs, Antonio Tajani affirmed his commitment to supporting Libya's stability and unity.
This came in response to the congratulatory message sent by the Libyan FM, Najla Al-Mangoush on assuming his new position.
"We look forward to continuing our trusted historic cooperation and continuing the path I started with my dear friend Luigi Di Maio," Al-Mangoush tweeted on Saturday.
"Thank you for your good wishes. The friendship between Italy and Libya is strong, and we will remain fully committed to developing our bilateral partnership and supporting Libya's stability, unity, and prosperity," he replied.
The Italian Prime Minister-designate, Giorgia Meloni presented a list of her cabinet, which includes 17 men and 7 women.
Notably, Italy topped the list of Libya's trading partners with a volume of 6.37 billion euros during the period from January to the end of July 2022, followed by China with 2.95 billion euros, and Spain with 2.44 billion euros.
The Italian news agency 'NOVA' cited data issued by the External Promotion Agency for Italian Companies in Tripoli as showing that trade exchanges between Italy and Libya increased by 83.68% in the first seven months of this year, compared to the same period last year. The sum was divided into Libyan exports worth 5.27 billion euros, and imports worth 1.11 billion euros.
According to data released by the ICE agency, the fourth trading partner was Greece with 2.39 billion euros, followed by Germany in fifth place with 2.37 billion euros, then Turkey in sixth place worth 1.94 billion euros, and the United States in seventh place with 1.38 billion euros.
Italy is also the third exporting country to Libya after Turkey, which leads the list with 1.54 billion euros in exports (an increase of 22.30% compared to the first seven months of 2021), a market share of 17.23%, and China is in second place with 1.22 billion euros in exports – an increase of 17.37% compared to 2021 and a market share of 13.62%.