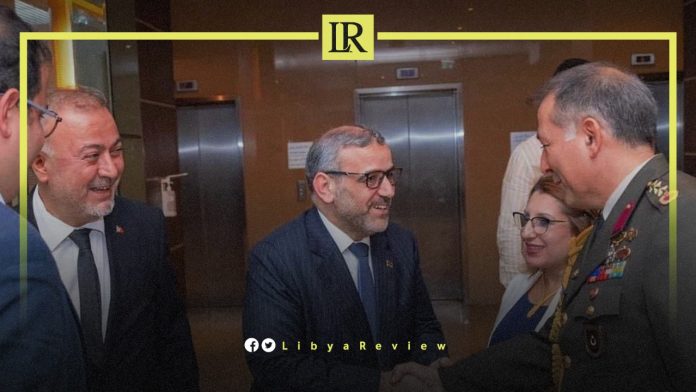 The Turkish Embassy in Libya celebrated the 99th anniversary of the proclamation of the Turkish Republic, at the Mahari Hotel in Tripoli.
The celebration was attended by a large number of Government of National Unity (GNU) officials, who openly defended the Turkish presence in western Libya.
Among the attendees was the Head of the High Council of State (HCS); Khaled Al-Mishri, Member of the Presidential Council; Abdullah Al-Lafi, GNU Deputy Prime Minister; Ramadan Boujnah, and the Deputy Speaker; Fawzi Al-Nwairi.
As well as the Chief of Staff of the GNU, the Minister of Economy, the Head of the Audit Bureau, the former Deputy Prime Minister of the Government of National Accord, and the Minister of Culture were in attendance.
The ceremony was attended by the commander of the Turkish forces in the western region, a number of politicians, and members of the diplomatic corps.
The celebration caused uproar and anger on social media, due to the "participation of Libyan officials in the celebration of a country occupying the Libyan West."
One account commented: " In the film Omar Al-Mukhtar, the first scenes show the Italians at a dance party on the occasion of their invasion of Libya… If the scene had not been repeated today with another occupation, they would have said it was forged and demanded an apology."
Another account, commenting on the picture of Khaled Al-Mishri said: "The adequate explanation of the word. This is a servile and mean person…The ruling gang has reached a degree of employment and humiliation in front of the Turks is beyond description."
Libya remains politically torn between two rival governments.
Tensions have been rising for months in Libya as the two Prime Ministers vie for power; rising fears of renewed conflict two years after a landmark truce.
The United Nations has been pushing the rival parties to organize elections to resolve the legitimacy crisis.