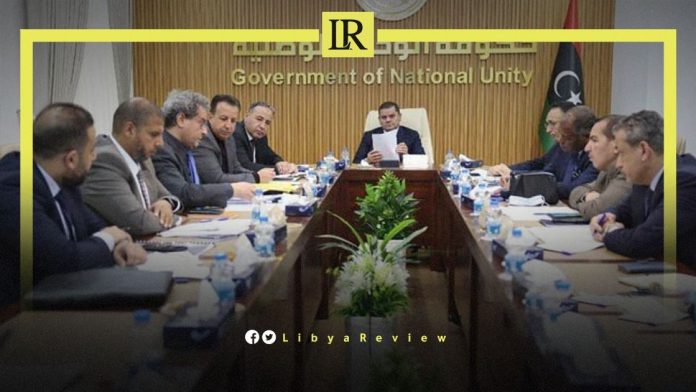 On Sunday, Libya's Supreme Council for Energy Affairs held a meeting to discuss a number of strategies aimed at developing the country's oil production with the National Oil Corporation (NOC). In addition to enhancing joint cooperation with Italy's Eni.
The meeting was headed by the Prime Minister of the Government of National Unity (GNU), Abdel-Hamid Dbaiba, in his capacity as the Council's Chairman. It dealt with strategic aspects of the renewable energy file, and put forward proposals and recommendations in this regard.
The meeting was also attended by Ministers of Economy, Trade, Finance, Planning, Oil and Gas, the NOC Chairman, the Head of the Renewable Energy Authority, and a representative of the Prime Minister's Office.
Among the most prominent tasks of the council, is the supervision of sovereign issues related to energy activities, and the preparation of the state's strategy.
Earlier this month, the CEO of Eni, Claudio Descalzi announced new oil and gas discoveries in Libya.
This came in a statement made by Descalzi to the Italian news agency, Nova on the sidelines of the eighth annual Mediterranean Dialogues Forum. This took place in Rome, in the presence of a number of Ministers, officials, and senior diplomats.
In October, NOC Chairman, Farhat Bengdara said that Eni will invest $8 billion to develop natural gas fields in western Libya.
He added that Libya expects between $35 billion and $37 billion in oil revenue this year and that it has proven natural gas reserves that exceed 80 trillion cubic feet.
Eni has been working together with the Italian government to clinch deals with alternative gas suppliers, in the face of increasing uncertainty over supplies from Russia.
According to the Upstream oil website, this comes at a time when Libya aims to complete the review of its financial system by the end of 2022, to attract investors. Libya is discussing projects worth $7.5 billion, which aim to provide additional gas to Europe, which is attempting to wean off of Russian gas supplies.
In August, Libya's Oil Minister, Mohamed Aoun, stated that Libya can only compensate for a small part of Russian oil supplies destined for Europe, even if all its fields are developed.
He explained that the offshore gas fields are under development due to an agreement between the NOC and Eni. He added that future production will not be able to meet domestic needs.