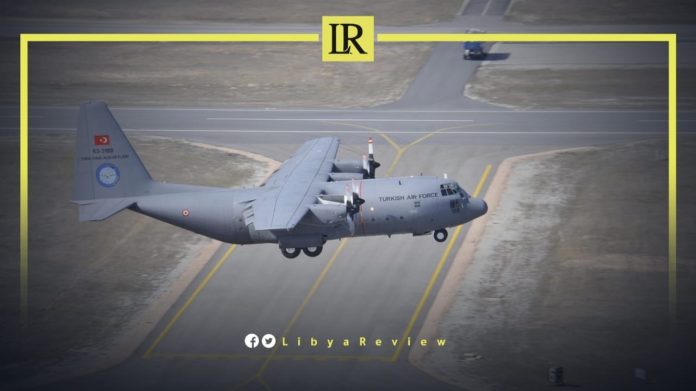 The Italian website, ItamilRadar, which specializes in monitoring military aircraft, reported that a Turkish military cargo aircraft landed in western Libya on Tuesday.

The website stated that the Airbus A400M plane (reg. 21-0118) departed Ankara, and landed at the Al-Watiya airbase, west of Tripoli at 3:48 CET.

Turkey continues to send military aircraft to Libya, with more than ten planes landing at the Uqba bin Nafi Airbase in the Watiya region, in western Libya.

Jamal Shalouf, a Libyan researcher and the Head of the Silphium Foundation for Studies and Research, said that three Turkish military cargo planes, using tracking concealment techniques, have been monitored near Libyan airspace.

The three planes took off from the Turkish city of Isparta. According to Shalouf, the first plane had flight number Reg: 21-0118, and the second Reg: 18-0094. While another Airbus A400 flight, Flight Reg: 15-0051, had no call sign.

Shalouf claimed that the three planes are heading to western Libya, where the first flight is likely to land at the Air Force College in the city of Misrata. The second flight will land at Al-Watiya Air Base, and the destination of the third plane has not been specified.

Turkey is believed to control a number of military bases in western Libya, most notably the Al-Watiya airbase. Ankara also recruited more than 18,000 Syrian mercenaries, according to the Syrian Observatory for Human Rights (SOHR).

In September, a Turkish military Airbus A400M arrived at Al-Rutba Air Base. Meanwhile, another C130 aircraft also landed at Al-Watiya Air Base, coming from a Turkish military base, according to data published by Flightradar24.

Ankara signed a memorandum of understanding on security and military cooperation in November 2019 with Libya's former Government of National Accord (GNA), headed by Fayez Al-Sarraj.

In June, the Turkish Parliament approved a motion to extend the mission of the Turkish troops in Libya for additional 18 months.