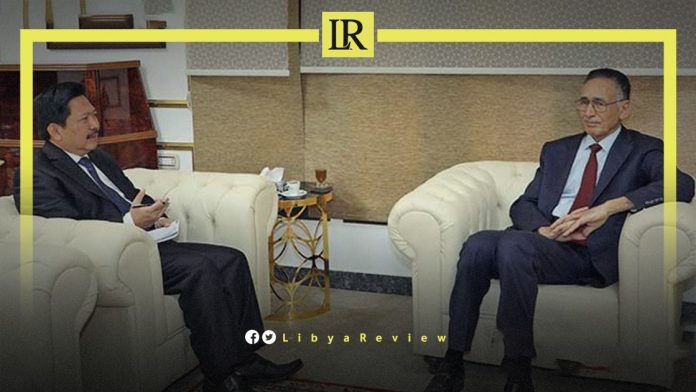 The Libyan Minister of Economy and Trade of the Government of National Unity (GNU), Mohamed Al-Hwaij called on Indonesia to open its consulate in Benghazi, as soon as possible. He noted that "this will contribute to facilitating the movement of business owners and the procedures of companies and investors from the two countries."

This came during a meeting between Al-Hwaij, the Chargé d'Affaires of the Indonesian Embassy to Libya, Didi Ahmed, and the Director of the Department of Foreign Trade and International Cooperation.

They discussed the difficulties and obstacles facing Indonesian companies in Libya, and ways to address them. As well as the "mechanism for reviewing and activating bilateral trade agreements, the promotion of trade cooperation, the exchange of expertise and experiences in areas of interest, and the establishment of joint fishing factories."

Al-Hwaij invited the Indonesian Minister of Commerce to visit Libya, to enhance economic and trade cooperation, and organize joint activities involving business owners and companies in both countries.

The officials also discussed the obstacles facing Libyan business owners in Indonesia, and ways to facilitate movement, residence, and financial procedures for companies and investors. This is in addition to the possibility of organizing an exhibition of Indonesian industries and products in Libya, and bilateral meetings between business owners to present investment opportunities in the two countries.

Notably, the Libyan Industry Union announced that it will organize the second "Made in Libya Exhibition" in the capital of Nigeria, Niamey, from 6-11 March 2023.

Al-Hwaij confirmed the importance of holding of such exhibitions to "link transit trade lines, and make Libya the trade gateway to Africa."

In a speech during the announcement ceremony that was held in Tripoli, he pointed out the need to revitalize the industry and investment sectors between Libya and Africa.

Al-Hwaij affirmed his support for the exhibition, saying that "the government will facilitate all technical, administrative, and legal procedures for holding the event. This will be done within the framework of supporting national industries, and exporting local products to neighbouring countries," he explained.

The Made in Libya Exhibition aims to promote and present Libyan products to the Nigerian and African markets, to increase trade and develop the exports of Libyan products and commodities to Africa.