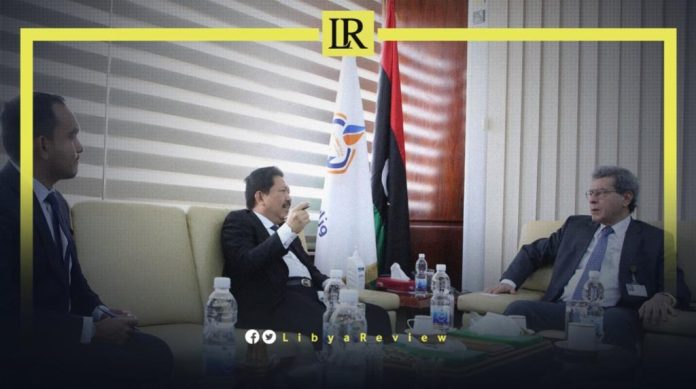 Libya's Minister of Oil and Gas, Mohamed Aoun met with the Chargé d'Affaires of the Indonesian Embassy to Libya, Dede Achmad Rifai.
During their meeting, Aoun stressed the importance of international energy companies with experience, contributing to exploring and developing land and sea blocs.
The two discussed ways to enhance cooperation in the energy sector, and the possibility of exchanging experiences and developing cadres in this field.
On Sunday, the Head of the United Nations Support Mission in Libya (UNSMIL), Abdoulaye Bathily, and Prime Minister of the Government of National Unity (GNU) Abdel-Hamid Dbaiba discussed the "unequal allocation of the country's oil and gas revenues."
The two sides discussed the growing discontent across the country over oil and gas revenues and underscored the need for transparency and accountability to prevent further division.
"During the meeting, I reiterated the need for an independent, Libyan-owned, Libyan-led mechanism to oversee the public revenue and expenditure system," Bathily said in a tweet on Sunday.
Notably, Bathily also held talks with Libyan Presidential Council member Abdullah Al-Lafi. During the meeting, the UN Envoy reiterated his call for political actors and other stakeholders to come together inside Libya to determine a way to bring the country to comprehensive elections without wasting further time.
"We also discussed the need to accelerate work toward an inclusive national reconciliation process," Bathily said on his Twitter account.
The UN diplomat, during his third briefing on Friday, told Security Council members that there is a need to apply international pressure on the country's political leaders to secure elections.
He affirmed, "The country is exposed to further division, in light of the presence of two governments and two central banks, the absence of consensual agreement on the constitution, and the increasing resentment in the country due to the inequality in the distribution of oil revenues.
"We need to think creatively about ways to ensure free, fair, transparent, and simultaneous Presidential and Parliamentary elections are organized," Bathily noted.