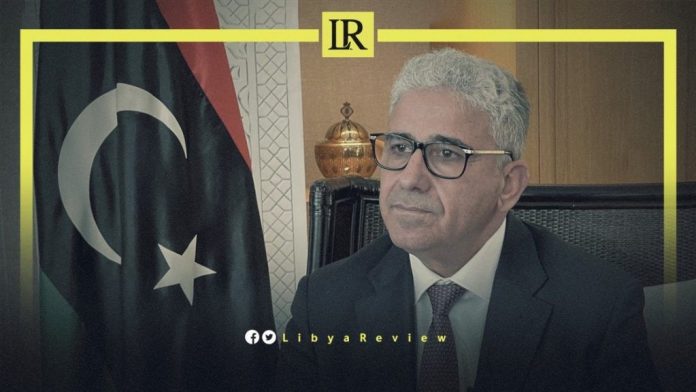 The Libyan Parliament-designated Prime Minister, Fathi Bashagha said that his government had "acquired a budget for all of Libya that was only expected to cost 1.05 billion dinars ($200 million)."
According to Bashagha, it was given to the three emergency committees established in the East, South, and West.
This came during his speech at the opening of the pediatric department at Ibn Sina Hospital in Libya's Sirte, after its refurbishment.
Bashagha said: "The government's conditions are difficult, but we accepted the challenge. There are sectors in need, but the amount of money is not enough."
He pointed out that "three million dinars were spent to restore life to the children's department, and other facilities in the hospital."
Bashagha explained that "the enemy of Libya's people is corruption, and it must be combated. There are 500 employees and nurses who have not received their salaries since 2017. This is due to the rampant corruption in the healthcare sector, that we must resist, and we are determined to do so."
Days ago, Bashagha said that his government "came to reunite and serve Libyans in all regions of the country," according to a statement published by the government's Media Office.1
This came during a meeting with a delegation of the Darsa tribe. In the presence of the Minister of State for Legislative Affairs, Muhammad Abu Zegia.
The tribal figures renewed their support for Bashagha's government, "especially since it was appointed by a Libyan agreement." They also praised the government's "role and efforts in the project of true national reconciliation," according to the statement.
In turn, Bashagha welcomed the delegation, and praised their role in national reconciliation and the continued support for rebuilding the state.
Last month, Bashagha promised Libya's elders, notables, and members of the Al-Kufra Municipal Council to provide the necessary support to the municipality and all regions of the south.
In his speech, Bashagha stated that his government "represents Libyan legitimacy, rather than international legitimacy represented by the Government of National Unity (GNU)."
He stressed his pride in the city of Al-Kufra, as it "represents a symbol of jihad, fusion, and national integration. It is a great historical symbol to the Italian aggression and occupation."