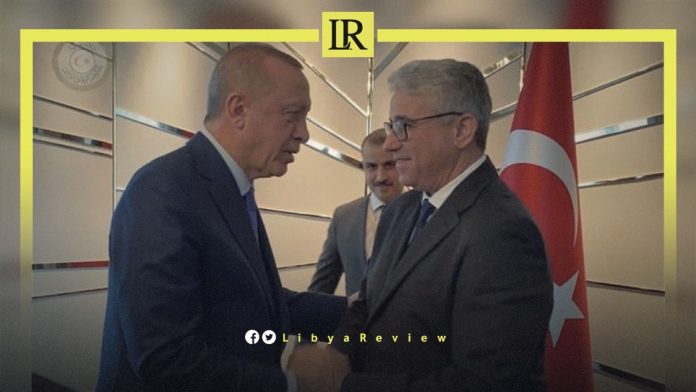 Despite his defence of the presence of the Turkey's troops in western Libya, the Libyan Parliament-designated Prime Minister, Fathi Bashagha finds himself alone, without Turkish support.
Turkey's Foreign Minister, Mevlüt Çavuşoğlu announced that Ankara would "always" stand by the Government of National Unity (GNU), led by Abdel-Hamid Dbaiba describing it as the "legitimate government of Libya."
Çavuşoğlu also noted the importance of Bashagha for Turkey. As he was the most cooperative regarding the protection of the capital, Tripoli in 2019.
Turkey has strengthened its presence through agreements with the GNU, and announced greater cooperation with the Libyan authorities in Tripoli, especially in the military and defence fields.
Turkish Defense Minister, Hulusi Akar said during a meeting with Dbaiba that Ankara's goal is to "contribute to the formation of safe, stable and unified Libya." He affirmed Turkey's insistence on continuing its training, assistance and military advisory activities "to support the Libyan brothers." This came days after Turkey and the GNU signed an agreement to explore for oil, which was met with widespread international condemnation.
The Bashagha government also rejected the energy deal, but Ankara did not comment on its statements.
For months, Bashagha has tried to plead with Turkey, to obtain the support of Turkish President, Recep Tayyip Erdogan to persuade Dbaiba to relinquish power and hand over Tripoli.
Bashagha has defended the Turkish military presence in Libya, claiming that the Turkish forces, invited by the former Government of National Accord (GNA) are "legally present in the country."
"Any military presence governed by an agreement or memorandum is essentially a memorandum of understanding. This we can control and we can ask these forces to cancel the agreement, or ask these forces to leave Libya," Bashagha said.
All of these moves come as part of his attempts to obtain international support. He also took advantage of some of his relations in Europe, especially the UK, to gain recognition.
A report by the British newspaper "The Sunday Times" revealed details of a failed attempt by Bashagha to be recognized by UK officials, through lobbying firms.
The newspaper claimed that Mark Fullbrook was paid by the lobbying firm "Fullbrook Strategies" to launch a campaign on Bashagha's behalf, targeting ministers, Downing Street officials, and diplomats. It explained that the goal was to pressure the UK government to change its position adopted by the United Nations and the United States, and to recognize the authority of Fathi Bashagha. The Labor Party claimed that Mark Fullbrook's position as Downing Street's chief of staff was no longer viable.
Observers fear that Bashagha will continue to work for Western support, even if it requires concluding deals and agreements that allow foreigners to control Libyan wealth. "It is possible that Bashagha would do this, as it is something that has recently spread among Libyan officials," they said, citing the energy deal with Turkey.