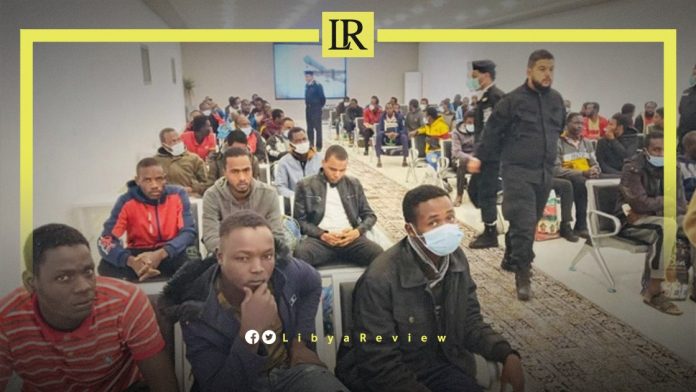 The Chadian Embassy in Libya announced the deportation of 85 Chadian citizens, after they completed their prison sentences.

The Embassy said in a statement, on Wednesday, that the deportation process took place in coordination between the Embassy, and Libya's Agency for Combating Illegal Immigration. The Embassy issued travel documents to Chadian citizens to facilitate their return by land.

The Embassy extended its "thanks and appreciation to the competent Libyan authorities for the good cooperation and mutual coordination to facilitate the safe return of its citizens to their homeland."

In October 2022, the Anti-Illegal Migration Authority in Benghazi said that it transferred 41 Chadian migrants, including 21 migrants with hepatitis, and another migrant with AIDS, to the Al-Kufra Shelter Centre in preparation of their deportation to their country of origin.

The Authority added that 20 other migrants were deported "for security reasons." The statement indicated that these migrants were arrested in Benghazi.

Notable, the Chadian Ministry of Foreign Affairs has condemned the "mass and arbitrary" arrests against Chadian citizens in southern Libya. It called on the competent Libyan authorities to "preserve the physical integrity of the detained Chadians, and protect them from any inhuman and degrading treatment."

This came after the Chadian Army arrested four Libyans on charges of illegally entering the country, while they were out on a wild hunting trip near the Chadian-Libyan border. The four Libyans lost contact with their families at the end of August, and then the Chadian authorities announced that they had been arrested, in possession of hunting weapons and ammunition. They were also accused of poaching, which is prohibited in Chad.

The International Organization for Migration (IOM) revealed that 24,684 migrants were intercepted in the Mediterranean, and returned to Libya in 2022.

The IOM stated that the number of migrants witnessed a decrease of 24% in 2021, at 32,425 migrants.

The UN body confirmed that it recorded 1,373 drowned or missing persons, during the past year. It announced that the Libyan Coast Guard had rescued 633 migrants off the coast of Libya, and returned them from 27 November to 3 December 2022.