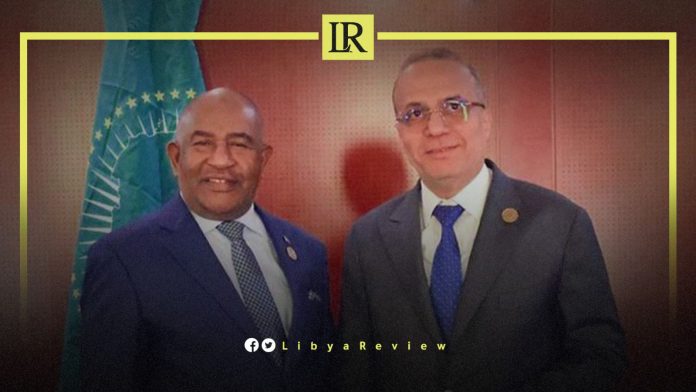 On Monday, the President of Comoros and Chairman of the African Union (AU), Azali Assoumani confirmed that the Union will "harness its efforts to serve Libya and its people, to ensure the success of the national reconciliation project in the country."

These remarks came during his meeting with the Deputy Head of the Libyan Presidential Council, Abdullah Al-Lafi, on the sidelines of the 36th summit of African Union Heads of State and government in Addis Ababa.

Assoumani expressed his readiness to "support the African High-level Committee on Libya, and the Presidential Council's efforts aimed at moving forward on the path of national reconciliation in pursuit of peace and stability in Libya."

In turn, Al-Lafi congratulated the President of Comoros on assuming the rotating presidency of the African Union, wishing him success in his duties.

This comes as part of a series of meetings held by Al-Lafi with several leaders, on the sidelines of the African Summit.

On Sunday, the Chief of the African Union Commission (AUC) Moussa Faki Mahamat revealed that AU is organizing a national reconciliation conference for Libya in a bid to restore stability to the conflict-wracked nation.

In press statements to the AFP, Faki said, "We have met with the different parties and we are in the process of working with them on a date and place for the national conference."

The AUC Chief noted that the meeting will be chaired by the African Union's pointman on Libya, the Republic of Congo President, Denis Sassou Nguesso.

Faki told AFP that a preparatory meeting for the reconciliation conference had been held in Tripoli several weeks ago.

"The departure of mercenaries was demanded," he said. "The Libyans must talk to each other; I believe that's a precondition for elections to be held in a stable country."

Libya descended into a decade of violence following the 2011 overthrow of the late longtime leader Muammar Gaddafi in a NATO-backed rebellion.

The resulting power grab gave rise to a myriad of home-grown militias and prompted interventions by Arab powers as well as Turkey, and Western states.

Presidential and legislative elections were originally scheduled for December 2021, to cap a UN-sponsored peace process. But the polls were postponed indefinitely, because of controversial candidates and the laws on participation.