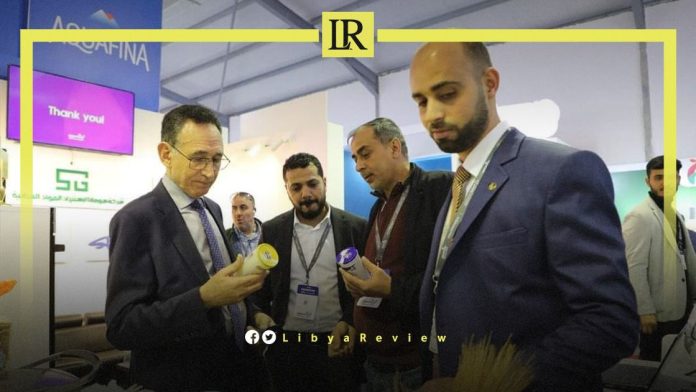 194 international and local companies participated in the fourth edition of the Libya Food Exhibition in Tripoli. This is being organised by the International Company for Organizing Exhibitions.

The exhibition brought together more than 80 international companies, including companies from Algeria, Morocco, Italy, Turkey, Tunisia, Spain, Saudi Arabia, Jordan, Egypt, and the UAE. About 114 local companies specialised in food industries, packaging and equipping cafes and restaurants also participated.

Many food manufacturers and importers, both locally and internationally, are participating in the exhibition. It will last until 8 March, with the aim of supporting the national economy and local industries, and ensuring food security to stabilise prices.

Sunday's inauguration was attended by the Minister of Economy and Trade, Mohamed Al-Hwaij, the Ambassadors of Tunisia and Turkey, and the commercial attaché at the Italian Embassy.

It was also attended by a number of businessmen, including the President of the General Federation of the Chamber of Commerce and Industry, the Tripoli Chamber of Commerce, the Director of the General Authority of the Tripoli International Fair, and the Sfax Chamber of Commerce.

Notably, the Chairman of the Benghazi Chamber of Commerce, Industry, and Agriculture, Saleh Al-Obeidi said that Libya's second-largest city, Benghazi, will soon host the "Made in Egypt" exhibition.

This statement came during the Egyptian-Libyan business forum, under the title "Egypt and Libya Towards Integrated and Sustainable Development." Al-Obeidi called on Egyptian businessmen to "enter the Libyan market and cooperate with Libyan businessmen through commercial and industrial partnerships."

He confirmed that "it was agreed to implement the mechanism of direct meetings with Egyptian and Libyan businessmen in all fields, to lay the foundations for direct cooperation between the two sides."

He noted that the two countries are "seeking to implement joint projects. The meetings will discuss labour, investment, industry, and trade cooperation."

An executive committee will also be formed to follow up on the implementation of the forum's recommendations.