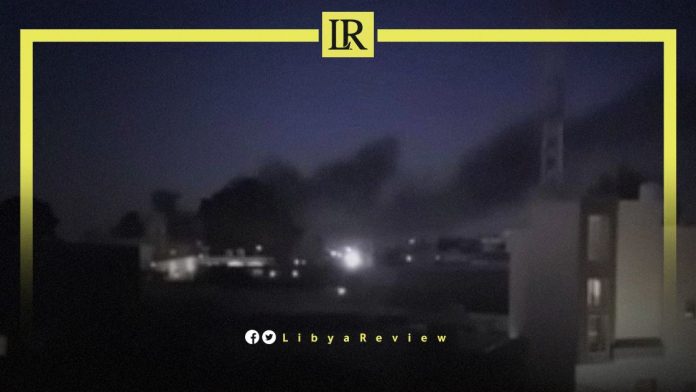 On Sunday, Libyan media sources reported that armed clashes broke out between armed militias in the Tajoura region, in eastern Tripoli.
In a statement, the Spokesman for the Ambulance and Emergency Service in Tripoli, Osama Ali reported that two people were wounded, and no deaths were recorded. He called on residents "not to rush and leave their houses, until the road is safe."
Gunfire and explosions were heard, as the warring sides used both light and heavy weapons, media reports said.
Eyewitnesses noted that the clashes were confined to the Bir Al-Usta area, southeast of Tripoli. The fighting erupted against the backdrop of the killing of Mahmoud Al-Zayani, a member of the Rahbat Al Duru militia, reportedly at the hands of the 'Tajoura Lions' militia two days ago.
The Red Crescent issued warnings to residents to "stay as far away from windows and doors as possible during the clashes, and to avoid going out, given the current conditions the city is going through."
The government, headed by Abdel-Hamid Dbaiba, has remained silent regarding the violent clashes.
There was no immediate comment from the government or security services regarding the clashes. Security tensions have been brewing for some time in the city over areas of influence and control.
Safety in Libya's capital, Tripoli is continuously deteriorating, with threats of kidnapping and murder a daily occurrence for residents.
Over the years, kidnappings, arrests, and assassinations have increased substantially in western Libya. This is evident in the repeated statements of the Ministry of Interior, about the arrest of gangs and individuals involved in the kidnapping and extortion of expatriate workers.
Libya ranked fourth in the Arab world, and twenty in the world, among the countries with the highest levels of organized crime, according to the report of the Global Initiative to Combat Crime (GLOBAL INITIATIVE).
In its latest report on Libya, the foundation based its indicators on several factors, most notably human trafficking, money laundering, drug trafficking, crimes related to animal and plant life, human smuggling, and arms trade.
According to the report, Libya ranked last in the world in terms of the degree of resilience against organized crime. This reflects the inability of the state to confront the scourge of crime.