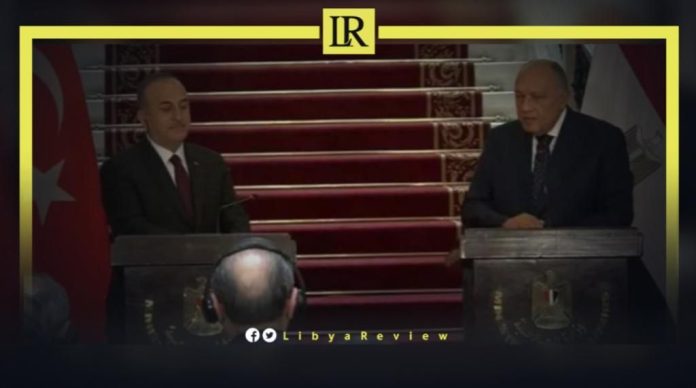 The Egyptian Foreign Minister, Sameh Shoukry, confirmed that he discussed a number of issues, including the situation in Libya, with his Turkish counterpart, Mevlüt Çavuşoğlu.

During a joint press conference with his Turkish counterpart in Cairo, Shoukry said that the two sides discussed the regional situation, whether related to the Palestinian cause or the situation in Libya, Syria and Iraq.

The Foreign Ministers indicated that the consultations touched on the course of normalising relations between the two countries at all levels. He explained that the talks during two hours dealt with all bilateral issues, regional conditions and challenges facing the two countries.

On Thursday, the Spokesperson for the Egyptian Foreign Ministry, Ahmed Abu Zeid, expressed Cairo's regret over the "United Nations (UN) Security Council's support of initiatives aiming at undermining the role of legitimate Libyan institutions."

The initiative was launched by the UN Special Envoy for Libya, Abdoulaye Bathily, in his brief before the Security Council last month. The initiative aims at forming a High-level Steering Panel to follow up and prepare for the electoral process in Libya.

In press statements to the Middle East News Agency, Abu Zeid described the Security Council's move as "a clear violation of the role of the legitimate and elected Libyan institutions."

The Egyptian diplomat expressed his "deep astonishment at the Security Council's support for vague and unspecified initiatives and objectives, in an attempt to legitimise their work."

He also denounced the use of "loose formulations such as 'security actors', which opens room for interpretation and contradiction with the relevant Security Council resolutions," according to Middle East News Agency.

"All this would increase the division and rivalry in Libya, and undermine the chances of holding presidential and parliamentary elections as soon as possible, within the framework of a Libyan national consensus," he explained.

Earlier, the Libyan Parliament and its designated government denounced the new political initiative.