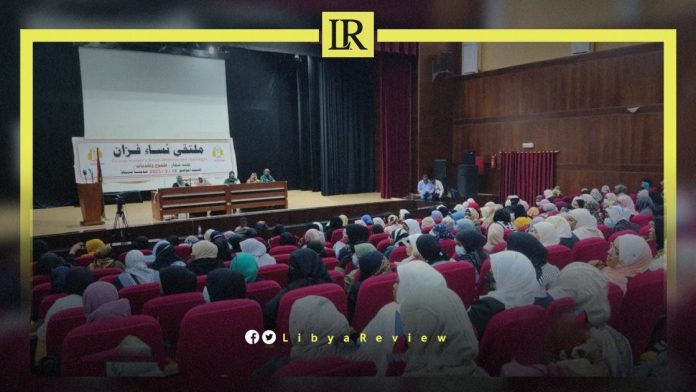 On Saturday, it was announced in Libya that a Higher Council for Fezzan Women would be established to promote women's rights demands, develop society, and help vulnerable groups.

The announcement came at the end of the activities of the Fezzan Women's Forum, which was held at the Sabha Municipal Theater. It was organised by a group of female activists and members of the House of Representatives (HoR) and the High Council of State (HCS) for the South, with the participation of women from different regions of Fezzan.

Member of the HCS, Fatima Atliweh, told Akhbar Libya 24 that the forum came after months of study and meetings with all the active forces in the women's movement in the southern region.

She added that the forum seeks to unify the ranks of Fezzan's women and to strengthen the work of local organisations concerned with women's rights.

Atliweh explained that the Supreme Council for Fezzan Women will be the first of its kind, in terms of the degree of representation of all Fezzan women within the council. This also in terms of the files that it will present for treatment, whether on the human rights, humanitarian or societal side.

She stressed that the door is open for all institutions interested in women's rights to join the council and support its work in the local and national milieu.

In January, the Women's Support Unit at Libya's High National Elections Commission (HNEC) launched a platform to monitor violence against women in elections.

This came during a ceremony attended by the Chairman of the HNEC, Emad Al-Sayeh.

According to the Commission's statement, the platform, which is organized with the United Nations Development Program (UNDP), "is one of the most important projects of the unit's plan for the year 2023."

The HNEC member, Rabab Halab, stated that the platform "would provide recommendations alerting the need to draft laws that would deter anyone who infringes on women's rights, to participate in the electoral process."

She explained that the platform is used in many countries, including Tunisia, Lebanon, and Peru. This is to enhance the integrity of elections, fight false and misleading news and hate speech, and monitor electoral irregularities

Halab added that "methodologies and action plans were reviewed, and samples and models of violence and electronic crimes directed against women were monitored on social media. The data collected through questionnaires monitored women's regression from participating in the electoral process."

Halab noted that it was concluded that "the greater the percentage of women's participation in elections, the greater the electoral violence." This indicated the importance of a strong platform to monitor electronic violence and electoral irregularities, which contributes to developing a strategy to address and reduce it.