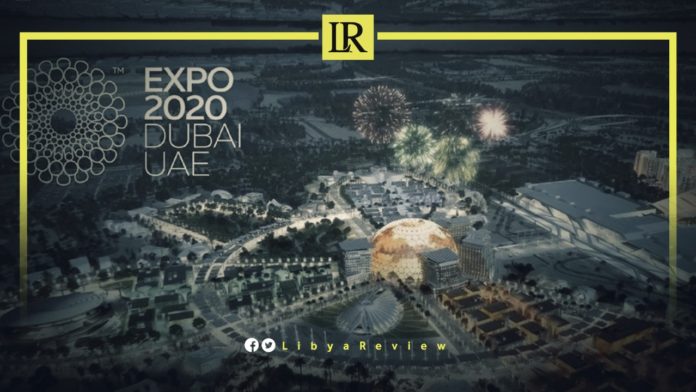 Libyan Minister of Economy and Trade, Mohamed Al-Hweij held a meeting on Thursday to discuss preparations for participating in the Dubai Expo 2020.
The meeting included the Undersecretary for Commercial Affairs, and the Chairman of the Board of Directors of the Public Authority for Investment Promotion and Privatization. As well as the Director-General of the Tripoli International Fair, the Director of the Office of the Ministry's Office, and the President of the General Federation of Chambers of Commerce, Industry and Agriculture.
They discussed the mechanism for organizing the Libyan delegation, and the sectors and areas targeted for participation in the exhibition.
Al-Hweij stressed the need to identify the participating delegation, "so that it is effective and achieves the desired goals." He added that the delegation should support the plan to attract foreign investors to Libya.
He stressed the importance of the participation of universities and research centers, and the private sector. As well as underscoring the participation of Libyan businessmen and companies within the framework of supporting national industries. This will "help create real export opportunities for Libyan products conforming to international standards," he said
Expo 2020 Dubai will be held from 1 October 2021 to 31 March 2022. 192 countries will participate in the exhibition, which will include three sections: Sustainability – Mobility – and Opportunities.
The eagerly awaited world fair will be home to 192 pavilions, will feature up to 60 live events each day, and 200 food and beverage outlets to fuel visitors during a journey around the world in one place.
Earlier this month, The Minister of Economy and Trade of the Libyan Government of National Unity (GNU), Mohamed Al-Hawij, said that the national economy of Libya is suffering from great damage and losses.
In press statements, Al-Hwaij added that the losses were estimated, according to the reports of the committees of the United Nations (UN), at $1 trillion distributed among several items. He noted that the losses of suspending the oil production amounted to $155 billion. It also includes the losses of social costs, infrastructure and reconstruction, which amounted to $576 billion.