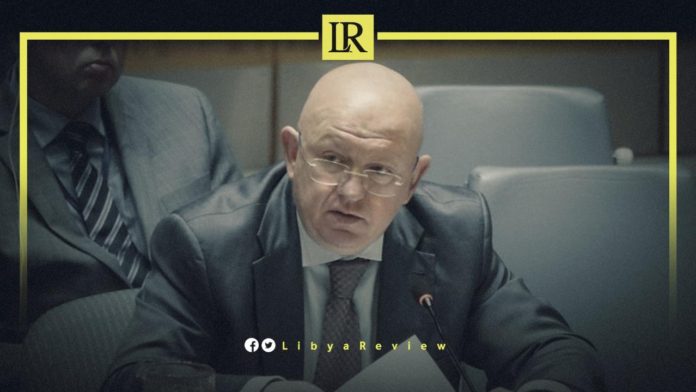 Russia Permanent Representative at the United Nations, Vassily Nebenzia stated that the Libyan elections will usher in a new page in the history of Libya.
The Russian Official called for the implementation of the recommendations of the strategic review of the United Nations Support Mission in Libya (UNSMIL). Nebenzia added that UNSMIL's restructuring will optimally take place after the end of the electoral process.
In his speech during the vote on the Security Council resolution to extend the mission's mandate, he added that Moscow voted in favour of a draft Security Council resolution extending the mandate of the Mission until 31 January 2022. A decision that was unanimously agreed upon.
The Russian diplomat explained that the vote came "based on our conviction in the first place that there is no alternative to a comprehensive peaceful settlement for the Libyans, except under the auspices of the United Nations, which has a central role in this process."
Nebenzia also said that the unanimous adoption of the resolution is evidence of the international community's continued support for the Libyan people at a very sensitive and responsible stage of the political process. This is in reference to the presidential and parliamentary elections scheduled for December.
The Russia Official called on all Libyan players to benefit from the support of the Security Council in order to overcome the differences.
On Thursday, the UN Security Council unanimously adopted a resolution extending its political mission in Libya — until 31 January, shortly after the 24 December elections. This comes amid country a fierce struggle between Russia and the UK over the text.
Mired in the standoff, the Security Council was forced to technically extend the mission's mandate by 15 days, until 30 September. This was to give more time for negotiations between Moscow and London.
After an emergency meeting on Thursday between the five permanent members of the Security Council, an abbreviated resolution was adopted, extending the mission.
Libya has been gripped by violence and political turmoil in the aftermath of the 2011 NATO-backed uprising that ousted leader Muammer Gaddafi. A UN-backed Government of National Unity (GNU) was elected in February to lead the country to the December elections.