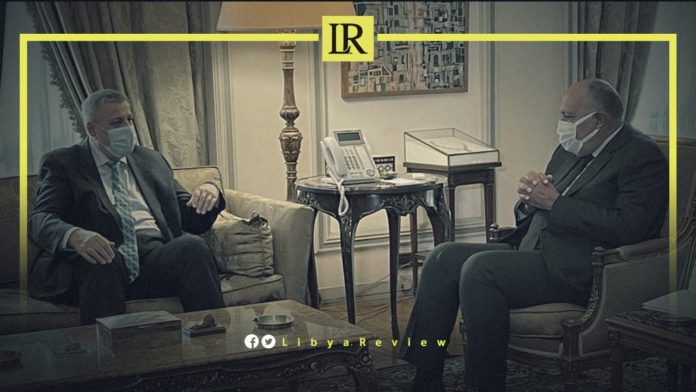 The Egyptian Foreign Minister, Sameh Shoukry, held a session of talks with the United Nations (UN) Special Envoy for Libya, Ján Kubiš, at the headquarters of the Ministry of Foreign Affairs, on Saturday. The meeting discussed ways to support efforts to achieve stability in Libya and support Libyan institutions.
Cairo will host meetings of Libya's Joint Military Commission (JMC) members and representatives of neighboring countries, Chad, Niger and Sudan. They will discuss the dilemma of the mercenaries and foreign forces withdrawal from Libya.
Major General Khaled al-Mahjoub, Director of the Moral Guidance Department of the Libyan National Army (LNA), said that the JMC members will arrive in Cairo on Friday, to discuss the timetables for the withdrawal of foreign militants from Libya. He noted that the military commission sought to evacuate all militants from the country. He stressed the need for a radical solution to the problem of militias in Libyan territory.
On October 8th, the JMC signed a comprehensive Action Plan for the withdrawal of foreign forces from Libya. Such a plan will be the cornerstone for the gradual, balanced, and sequenced process of the withdrawal of mercenaries, foreign fighters and foreign forces from Libyan territory.
Egypt has always shown its support for a political solution to the Libyan crisis. Egyptian President Abdul-Fattah El-Sisi stressed the need to hold the Libyan elections on time on December 24th. He also confirmed Egypt's firm stance towards respecting Libyan sovereignty and preserving its territorial integrity, calling for the unification of the Libyan Army.
"El-Sisi expressed his rejection to all forms of foreign interference in Libyan internal affairs," the Egyptian Presidency has said.
The Egyptian President also welcomed the Libyan House of Representatives' (HoR) issuance of the presidential election law. He confirmed Egypt's readiness to provide all means of support to Libya to hold the elections on time. He affirmed that the Libya's stability is an integral part of Egypt's national security.