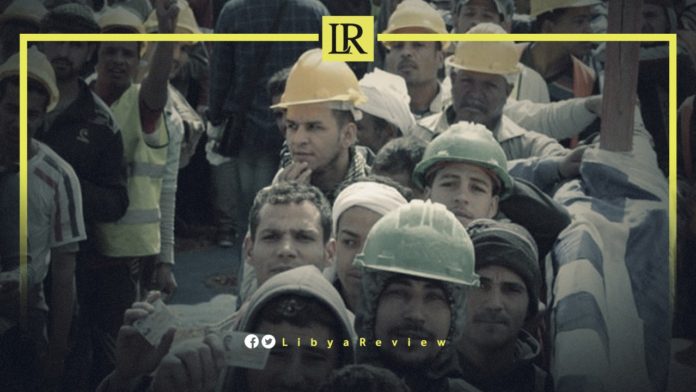 The Egyptian-Libyan Technical Committee has signed the electronic link protocol between the two countries. This occurred in preparation of the return of Egyptian workers to Tripoli to participate in the reconstruction, said the Egyptian Minister of Manpower, Mohamed Saafan.
Saafan noted that the electronic link between the two countries is important in order to regulate the entry of Egyptian workers to the Libyan labor market in a legitimate manner in accordance with legal procedures.
"Through this protocol, we can determine the whereabouts of these workers and the system of establishments in which they work to identify and count the Egyptian workers working on the Libyan side," Saafan's Media Office said in a statement.
He added that the Egyptian workers will head back to Libya after the signing of the electronic link system. The statement did not mention the exact date, but it said that Egyptian workers will return to Libya shortly.
Saafan pointed out that the construction and contracting sectors will be the sectors that will witness the highest presence of Egyptian workers in Libya.
"The Egyptian workers that will be requested through the electronic link to have trainings at the centres of the concerned authorities before traveling," the statement noted.
Saafan told Independent Arabia in October that the first group of Egyptian workers already arrived in the Libyan capital, Tripoli.
A technical team from the Ministry of Manpower visited Tripoli to lay the foundations for the electronic link between the two countries, he added.
"The electronic link aims to provide facilities to limit the places of work of expatriate workers, and to prevent their exploitation from other parties or illegal immigration," the Egyptian Minister explained.
Meanwhile, the Head of the Division of Employment Abroad in the Egyptian Chambers of Commerce, Abdel Rahim Al-Mursi, said that about 1 million Egyptian workers will be deployed to Libya soon. He expected that the number will increase to 3 million workers within about 2 years."
Al-Mursi revealed that a large delegation of government and private companies will visit Tripoli next November. He also expected reconstruction work to start in December.
Notably, the Libyan government, headed by Prime Minister Abdelhamid Al-Dbaiba, visited Egypt in September and signed reconstruction contracts worth about 4 billion dollars.
Among the most prominent projects that the governments of Egypt and Libya signed during the last visit, are contracts for the construction of the 250 km Ajdabiya – Jalo road.
Libya and Egypt also agreed on consultancy work to implement the Mellitah power station. They also signed a project of the implementation of the C-Ring Road, one of the most important projects in Libya.