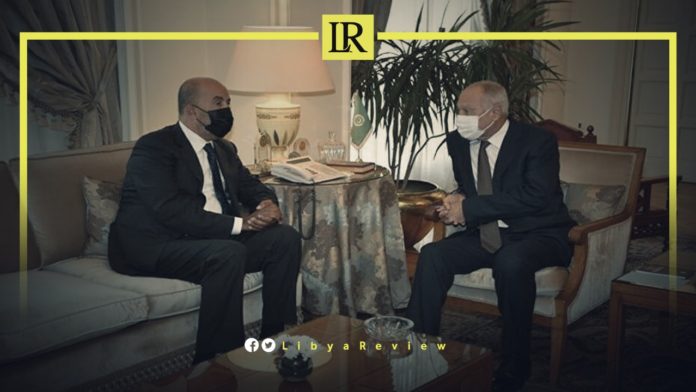 On Monday, the Deputy Head of Libya's Presidential Council (PC), Mousa Al-Koni held talks with the Secretary-General of the Arab League, Ahmed Aboul Gheit in Cairo. They discussed the ongoing preparations for holding the Parliamentary and Presidential elections as scheduled in December.
In press statements, Al-Koni added that he had discussed enhancing coordination with the Arab League to mobilize support for the elections, explaining that the League will play a pivotal role in Libya.
Regarding the preparations for the December elections, Al-Koni said that "there are attempts to reach compromises among all Libyan parties regarding all contentious issues," adding that "it is difficult to reach consensus on election laws, as is the case with all other countries."
With regard to the candidacy of Saif Al-Islam Gaddafi, Al-Koni said that the country's elections commission is the only body that can decide his eligibility to run. He stressed that Saif Al-Islam had the right to run as a citizen, so long as he met the necessary criteria.
Al-Koni underlined the important role of the Arab League in helping withdraw all mercenaries and foreign forces from Libya. He explained that it would be able to negotiate with member states to withdraw their forces.
"There are serious steps being taken in Libya towards compromise over an election planned for December as part of a peace process," Mohamed Al-Mnifi, the Head of the Presidential Council told Reuters on Sunday.
"We must be optimistic and think that the elections will be on time with the agreement of Libyans. Now there are serious steps to make a consensus to hold the election on time on 24 December," he added.
Disputes over the schedule and rules for Libya's election, including over who should be allowed to run, threaten to derail the UN-backed peace process which is seen as the best hope in years to end a decade of chaos.
Al-Mnifi attended the Paris International Conference on Libya on Friday. World leaders agreed to consider sanctions for election spoilers, but made no efforts to bring rival factions together to agree on the electoral rules.
The vote was called for through a UN-backed roadmap that planned for simultaneous Presidential and Parliamentary elections. However, a law issued by the Libyan Parliament pushed the Parliamentary vote to a later date.