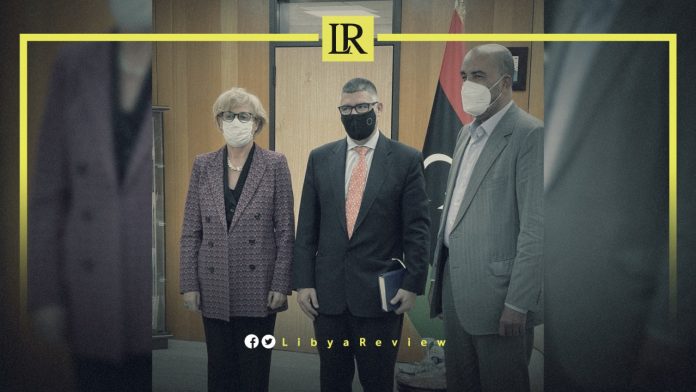 Deputy Head of the Libyan Presidential Council, Musa Al-Koni met with the European Union Ambassador to Libya, José Sabadell and Head of Mission of the EU Border Assistance Mission (EUBAM) in Libya, Natalina Cea.
Al-Koni briefed Sabadell on the positive results of his recent trip to Brussels, and the immediate steps to be taken. They discussed sending a European mission to monitor the electoral process, which is set to take place on 24 December.
He praised the efforts of the EU mission to stand with Libya, which requires international expertise and knowledge in addressing its many outstanding issues. He expressed his readiness to help overcome all difficulties facing the mission.
A week ago, Al-Koni met with the Deputy Secretary-General of the European External Action Service (EEAS) Helena Konig in Brussels, to discuss a number of issues, including illegal immigration.
According to the Libyan News Agency, the two reviewed aspects of European support for Libya's efforts to monitor its southern borders, and confront the migrant flow. In order to stop migrants crossing into Libyan territory, and travelling onwards to Europe.
Konig stressed that the migration crisis occupies a special place in European politics, and the EU's general strategy. As well as stressing the importance of cooperation and coordination with Libya in this regard.
She pointed out that the crisis was not only a concern for Libya, but also for the EU, which is keen to address the issue jointly. She confirmed that "the EU will not delay in providing all support to Libyan efforts in particular."
Notably, Al-Koni also met with European Commissioner for Neighborhood and Enlargement, Olivér Várhelyi on Tuesday. They also discussed the available mechanisms to combat illegal immigration, cross-border crimes, and terrorism.
Al-Koni is holding multiple meetings with EU officials during his visit to Brussels, according to a statement by the Libyan Presidential Council.
The undersecretary of the Libyan Ministry of Foreign Affairs, Mohamed Issa and other officials are attending the meeting.
They also tackled spatial development programs in the south, Libya's strategy to address the issue of mercenaries and foreign forces, and the EU's support for the elections and ensuring the acceptance of their results.