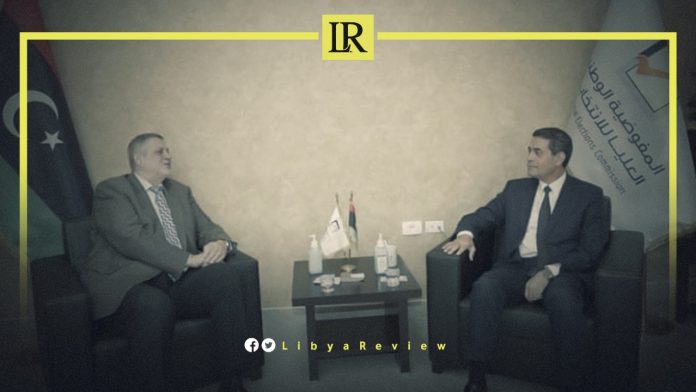 On Wednesday, the Head of Libya's High National Elections Commission (HNEC), Emad Al-Din Al-Sayeh, met the United Nations (UN) envoy, Jan Kubis in the presence of the member of the Commission Council, Abdel-Hakim Al-Shaab.
They discussed the latest developments in the electoral process, and the acceleration of the executive stages for 24 December, and the international community's interest in the progress achieved in this regard.
Kubis stressed the renewed support of the international community, through the United Nations, for the steps taken by HNEC to hold the elections as scheduled.
He emphasised the commitment of the UN to stand by the Libyan people to achieve their aspirations in having a democratic state.
In a separate context, Kubis expressed his concern about the challenges facing the Libyan Oil Corporation (NOC) in the current period.
He stressed the need to avoid politicizing the institution, and preserve its integrity and unity, according to a statement published by NOC.
The meeting discussed ways to support the Corporation and its companies at all levels, in order to be able to maintain and sustain current production rates.
The NOC explained that Kubis stressed that Libya's natural wealth should benefit all Libyans through a transparent administration, an equitable distribution of wealth, and the provision of public services.
Days ago, Deputy Head of the Libyan Presidential Council, Mousa Al-Koni met with Kubis. They discussed the latest developments in Libya, primarily the upcoming elections, and the envoy's briefing before the UN Security Council.
Al-Koni praised Kubis' efforts in supporting the political process in Libya, and the efforts of the Presidential Council in implementing the roadmap of the Libyan Political Dialogue Forum (LPDF).
Al-Koni asked Kubis to reconsider his resignation, adding that his continuation will greatly support efforts to resolve the Libyan crisis.
During the meeting, Al-Koni stressed the necessity of holding the Presidential and Parliamentary elections as scheduled. He called for clarifications on the eligibility of candidates, so that "the electoral process proceeds in a fair and transparent manner that guarantees the rights of all."