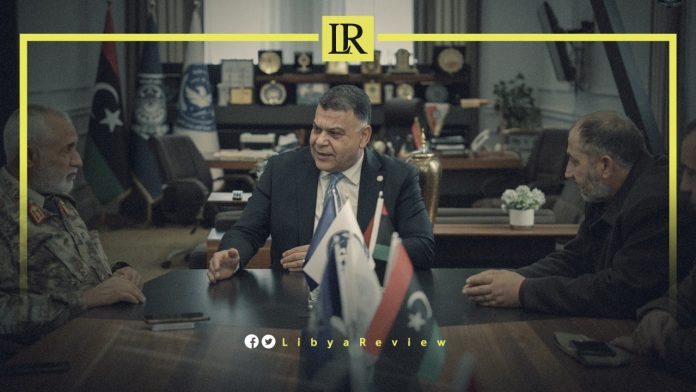 Libya's Interior Minister, Khaled Mazen met with members of the 5+5 Joint Military Commission (JMC), to discuss security arrangements for the 200km long Coastal Road.
The meeting was attended by Major General Ahmed Abu Shahma, Major General Mukhtar Al-Naqasa, Major General Mustafa Yahya, Major General Radwan Al-Gharari, and Director of the General Administration of Security Operations Major General Ali Al-Nuwaisri.
They discussed developing a plan to secure the road extending from the Al-Hishah area, to Al-Jufra. Work is currently underway to remove war remnants and mines from the area by a military engineering team.
Major General Al-Nuwaisri reviewed the establishment of three fixed security outposts, in order to secure the pivotal road, and maintain the security and safety of citizens.
Mazen affirmed his commitment to providing the required manpower and equipment to ensure the success of the process.
In July, Libya's 5+5 Joint Military Commission (JMC) announced the reopening of the Coastal Road linking eastern and western Libya, after more than two years of closure.
Khairy Al-Tamimi, a member of the JMC, said that "the Libyan Joint Military Commission assures all citizens using the Coastal Road that it will take all security measures professionally and completely impartially, to ensure the safety of citizens' passage."
Al-Tamimi added that the JMC reiterated that it would prevent the movement of military convoys on the road between the Abu-Qrain Gate to the Al-Talatin Gate, west of Sirte.
The commission announced the assignment of a number of officers to monitor the situation, and called on the United Nations Support Mission in Libya (UNSMIL) to quickly take measures to ensure the presence of international observers on the ground. This is in order to contribute to supporting the Libyan monitoring mechanism.