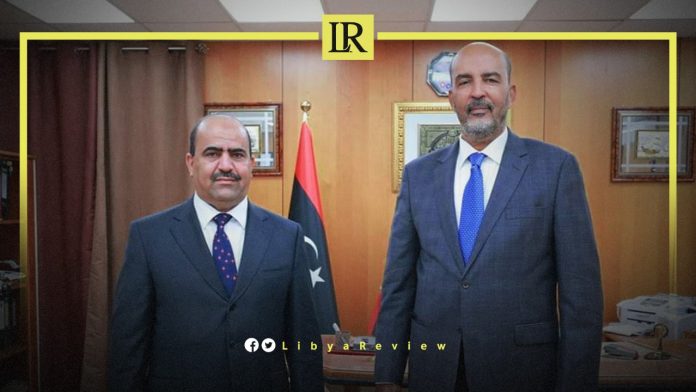 On Tuesday, Deputy Head of the Libyan Presidential Council, Musa Al-Koni met with the Algerian Ambassador to Libya, Suleiman Shanine. The two discussed the latest developments in the Libyan crisis.
In a statement, the Presidential Council said that Ambassador Shanine conveyed a "friendly message" from Algerian President, Abdelmadjid Tebboune to Al-Koni and the Libyan Presidential Council.
During the meeting, Al-Koni stressed the "depth of the brotherly and historical relations between the two countries." He praised Algeria's role in resolving the Libyan crisis, through its communication with the international community and the various warring parties.
Al-Koni confirmed his hope to follow the Algerian example of national reconciliation after its civil war in the 1990's.
The Ambassador stressed the "importance of the historical relations between the two brotherly peoples, and the bonds of blood, destiny, and common borders that bind them."
On Monday, the Algerian news agency quoted Taoufik Hakkar, the General Manager of the Sonatrach oil company as saying that they are preparing to resume their suspended oil projects in Libya.
Hakkar added that the company is working with its partners in Libya to ensure the security and safety of workers and equipment.
He stated that visits will be organized before the end of February, to negotiate the company's return to Libya. As well as adding that the company will invest about $40 billion dollars from 2022 to 2026.
During his participation in the Algerian-Libyan Economic Forum in May 2021, Hakkar claimed that Sonatrach is "fully prepared to develop distinguished relations with our Libyan partner to lay the foundations of a win-win economic partnership for both sides, and to develop the oil and gas industries in the two countries."
Sonatrach is an Algerian state-owned oil company, which has diversified its activities to include all aspects of production, exploration, extraction, transportation, and refining. As well as diversifying into petrochemical and seawater desalination activities.