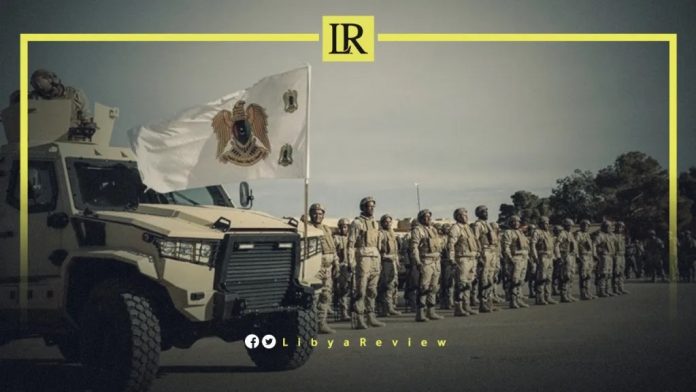 Major General Khaled Al-Mahjoub, Director of Moral Affairs in the Libyan National Army (LNA), announced the arrest of an arms dealing gang working with "extremist groups" in Algeria and Mali.
Al-Mahjoub said in a statement that an LNA unit arrested the group after setting up an ambush near the Algerian border. Weapons and explosive materials were seized during the operation.
Those arrested were referred to the competent authorities, to take the necessary legal measures against them. He did not mention their nationalities, nor the number of those arrested.
The Director explained that this comes as part of the LNA's military patrols in the desert, in order to combat cross border crimes, including the smuggling of people, weapons, and fuel.
Earlier this month, LNA forces began "a wide and comprehensive military operation in the south of the country to impose security, the Commander of Southern Operations and the Sebha Military Region, Major General Al-Mabrouk Sahban said.
He added that, the first phase of the military operation will target all violators participating in random construction, drug trafficking, smuggling, illegal immigration, and armed groups.
The second phase is set to target illegal fuel stations, which distribute smuggled fuel at exorbitant prices. The phase will not start until fuel is available at all stations licensed by the Libyan state.
"Distributing fuel to the Sebha oil depot is unfair due to the lack of adequate control over the distribution stations. This is in addition to the manipulation of distribution stations by several parties," Sahban said. He stressed that there are efforts by the LNA aimed at delivering fuel to all Libyans.
In an interview with Al-Ain News, he added that they are showing great interest in the Murzuq Basin. As several meetings have been held for a comprehensive settlement between the parties of the city.
Notably, the LNA announced that it has closed its southern borders with Chad and Sudan until further notice, according to the Subul Al-Salam Brigade.
The brigade called on vehicle and truck drivers to abide by this decision, "to preserve their safety at the present time."