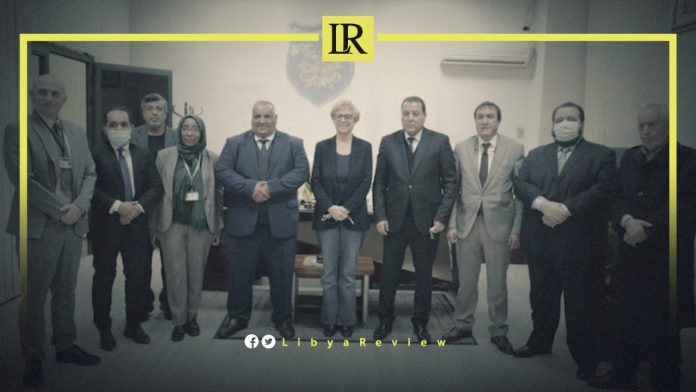 The Director-General of Libya's Customs Authority, Brigadier General Suleiman Salem met with the Head of the European Union Mission to Assist Libya (EUBAM), Natalina Cea in Tripoli. They discussed cooperation in Integrated Border Management, and how to benefit from the Italian customs experience in the Customs Coast Guard.
The two also discussed several activities related to capacity building for members of the Libyan Customs Authority. As well as sending permanent experts to provide technical support.
On Monday, the GEORGE S. crude oil tanker docked in eastern Libya's Tobruk oil port, to begin loading one million barrels of oil to Italy.
An official source at the port indicated that the production rates from the Masala and Sarir fields have reached 225,000 barrels of crude oil. The oil reaches the port, which is owned by the Arabian Gulf Oil Company (AGOCO) via a 513 km pipeline, which has a diameter of 34 inches.
The source confirmed that the shipping and export operations are carried out according to the precautionary steps to combat the COVID-19 pandemic. As well as to preserve the environment, "which is one of the company's most important priorities."
Last month, Libya's Attorney General, Al-Siddiq Al-Sour met with the Italian Public Prosecutor, Giovanni Salvi and Cafiero De Raho, the Director of the National Administration for Combating Organized Crime and the Mafia.
The two parties met in Rome, and discussed ways to enhance cooperation in the field of criminal justice. This is based on an invitation by the Public Prosecutor at the Court of Cassation in Italy, according to a statement by Al-Sour's office.
The meeting discussed creating a working mechanism conducive to addressing all the issues that prevent the completion of common investigations. They also discussed cooperation in combating transnational crime organizations involved in organizing illegal immigration, human trafficking, fuel smuggling, and terrorism.
The issue of Libyan detainees in Italian prisons was also brought up, including the development of suitable procedures in this regard.
The statement added that they agreed to develop information exchange, and Italy would prepare and implement training programs for Libyans.