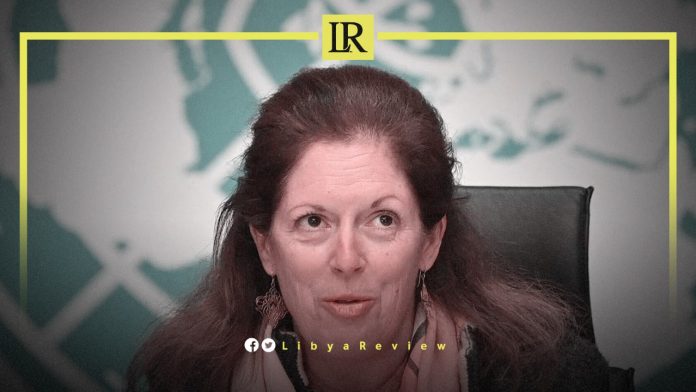 The UN Secretary-General's Special Adviser on Libya (SASG), Stephanie Williams called for a joint committee to be formed between the Libyan Parliament and the High Council of State (HCS) to develop a consensual constitutional basis.
"Last night I sent letters to the leadership of both the House of Representatives and the High Council of State inviting them to nominate six delegates from each chamber to form a joint committee dedicated to developing a consensual constitutional basis," Williams tweeted.
"The joint committee should convene on 15 March 2022, under the auspices of the UN and with my good offices as the Special Adviser to the Secretary-General to work for a two-week period to achieve this goal. I await the chambers' speedy responses to this invitation and reiterate the responsibility of the Libyan institutions to act in good faith and engage constructively together to move towards elections, for the sake of the 2.8 million Libyans who registered to vote for presidential and parliamentary elections," Williams noted
"I again highlight the fundamental importance of preserving security and stability and refraining from all acts of escalation, intimidation, kidnapping, provocation and violence. The solution to Libya's crisis does not lie in forming rival administrations and perennial transitions," Williams added.
Williams stressed that Libyans need to agree on a consensual way forward, which prioritises preserving the country's unity and stability.
On Thursday, former Libyan Interior Minister, Fathi Bashagha was sworn in as the country's new Prime Minister during a session at the Libyan Parliament, in the eastern city of Tobruk.
Bashagha took his oath of office after his government emerged from a confidence vote on Tuesday. 92 of the 101 lawmakers in attendance approved the decision, in a live broadcast from the city of Tobruk.
"We will begin studying all options and measures necessary to take power in Tripoli by the force of law," Bashagha said after taking the oath.
However, he also vowed to "work together to achieve reconciliation and justice," saying: "we will work with determination to end the transitional stages."
His cabinet includes three deputy prime ministers, 29 ministers, and six ministers of state.
It has been reported that two newly appointed ministers — for Foreign Affairs and Culture — were abducted on their way to the swearing-in ceremony.
Gamal Salem Shaaban, who had been appointed as Minister of Economy and Trade has reportedly resigned. He said that, "the session lacked transparency and integrity and did not meet procedural standards. There is no honour in being part of a cabinet that will bring about war and destruction."
His resignation came on the heels of a UN statement voicing concerns over reports that the voting on the new government was fraught with irregularities. There are also fears that the appointment will again lead to parallel administrations, and fuel tensions in a country mired in conflict for the past decade.
On Thursday, Ibrahim Al-Dabbashi, the former Libyan Ambassador to the UN denounced Stephanie Williams, the Special Adviser to the UN Secretary-General in Libya (SASG). He accused her of "working to perpetuate chaos, empower the corrupt, and failures to take leading positions in the country," in addition to, "mobilizing international support for them to the detriment of the national interest."