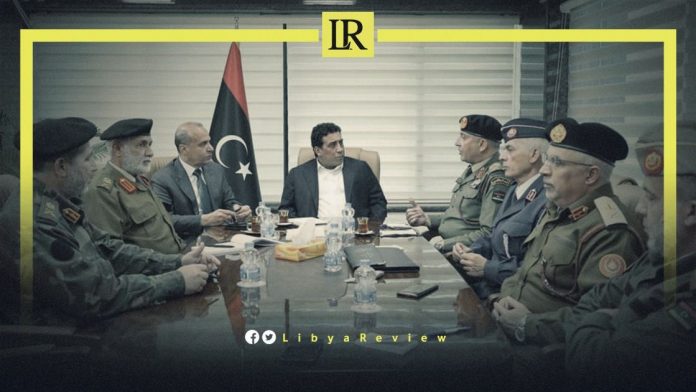 On Tuesday, the Head of Libya's Presidential Council, Mohamed Al-Mnifi held a meeting with members of the 5+5 Joint Military Commission (JMC), to discuss the reunification of the military institution.
The meeting discussed, "mechanisms for organizing the work of military units in Tripoli, the Western Region, and the security situation in the country."
Al-Mnifi reiterated his support for the JMC's efforts in, "unifying the army, reforming the military sector, and ensuring that laws in force are applied regarding any weapons outside the authority of the Libyan State."
Notably, a member of the 5+5 Joint Military Commission (JMC), General Al-Fitouri Ghribel said that there may be an indefinite delay in withdrawing all mercenaries and foreign forces from the country.
Despite the promising progress made, the General attributed the reason for the delay to, "the current political division."
"We were counting on holding elections that would result in unified authorities, so that the plans that we had laid out for the exit of mercenaries and foreign forces could begin to be implemented," Ghribel told Asharq Al-Awsat newspaper.
"Unfortunately Libya's elections were obstructed by the current divided political bodies," he added.
Ghribel explained that the JMC has completed its technical role, in coordination with the United Nations and regional actors. As well as Libya's neighbours, and countries that have forces and mercenaries in Libya.
"We previously formed communication committees during both the Cairo, and Tunis meetings in November. We also visited the countries involved in Libya's conflict, particularly Russia and Turkey, and informed them of the results of our meetings," he explained.
"There would be an opportunity to expel the mercenaries, even by force, if a Parliament, a President, and a unified government were elected," he concluded.