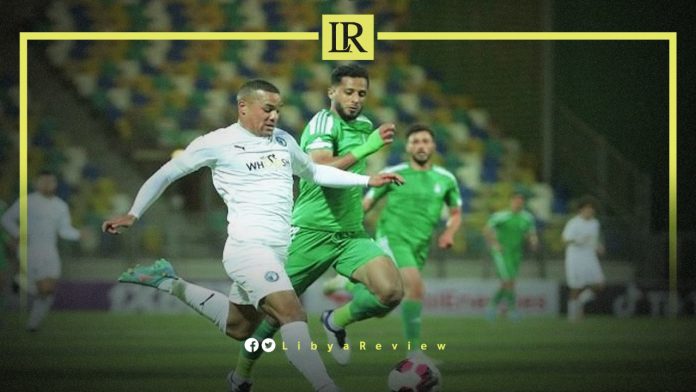 Libyan football giants, Al-Ahly Tripoli defeated Egypt's Pyramids 1-0 in the 5th round of the group stage of the CAF Confederation Cup.
The two teams met at the Tripoli International Stadium on Sunday evening.
Al-Ahly Tripoli's goal came, after a cross by Mohamed Tabbal from the right. Pyramids defender, Omar Jaber mistakenly scored an own goal in the 55th minute of the game.
In the 17th minute, a cross from Al-Tarhouni, Al-Ahly's left-winger, reached Saleh Al-Taher, who shot the ball from inside the six-yard area, but it passed over the crossbar.
In the 25th minute, a shot from Nabil Dunga from the edge of the penalty area, was caught by Libya's goalkeeper, Mohamed Nashnoush.
The 35th minute saw a cross from Mohamed Tabbal from the right, which was intercepted by Al-Taher, with a shot from inside the six-yard area, but it passed over the crossbar.
In the 45th minute, Ali Jabr a Pyramids defender, received a yellow card after a tough intervention in the middle of the field.
In the 70th minute, a free-kick for the Pyramids team near the penalty area was carried out by Hussein Al-Sayed. Al-Ahly's defence managed to keep it to a corner kick.
In the 80th minute, a corner kick by Al-Sayed was successfully defended by Al-Ahly's, keeping it away from the six-yard area.
After the game, Al-Ahly Tripoli moved up to 12 points, reaching first place in the first group standings. The Pyramids' remained at 10 points, in second place.
Libya's giants will face Tunisia's CS Sfaxien on 3 April.
Last month, Al Ahly survived a late scare to defeat CS Sfaxien 2-1 at the Benina Martyrs Stadium, in the second round of the first group matches.