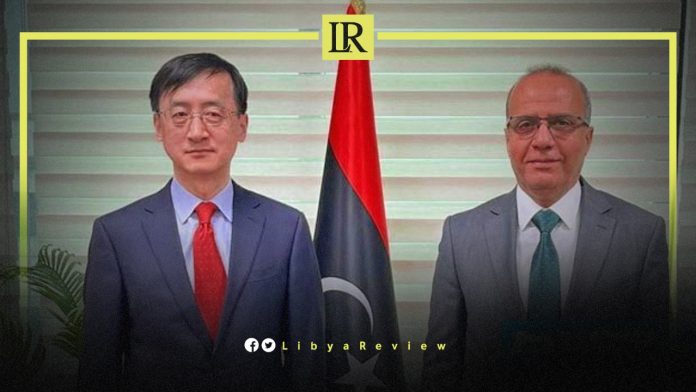 On Thursday, the China Charge d'Affaires to Libya, Wang Qimin affirmed Beijing's "strong desire to develop its relations with Libya."
These remarks came during a meeting with the Deputy Head of the Libyan Presidential Council, Abdullah Al-Lafi in Tripoli.
During the meeting, the China diplomat also stressed their willingness to support economic stability in Libya, and take part in reconstruction efforts.
He confirmed that a number of Chinese companies are ready to resume operations in Libya, and reactivate projects with their Libyan counterparts.
With regard to the latest political developments in Libya, Al-Lafi requested support for the democratic process, and the roadmap that was drawn up in Geneva. He also stressed the need to establish a mechanism for holding elections, according to a consensual constitutional base.
Al-Lafi also welcomed the Libya-China rapprochement in the economic and industrial field, stressing the desire of the Presidential Council to activate bilateral agreements.
The Libya-China officials discussed efforts to achieve national reconciliation. As well as "the steps taken to announce consensus on a national charter, through a conference that includes all parties, which will pave the way for reaching consensus on a constitutional basis for holding elections."
Notably, Libya is currently facing a political crisis after Parliament swore in a new Prime Minister, Fathi Bashagha to lead a new interim government in February. MP's argued that the incumbent PM, Abdel-Hamid Dbaiba's mandate expired when the elections failed to take place.
Dbaiba has refused to cede power, amid the fallout from a failed attempt to hold national elections in December. He also warned that the appointment of a new interim government could lead to war and chaos in the country. He renewed his pledge to only hand power over to an elected government.
Recently, China Deputy Permanent Representative to the United Nations, Dai Bing called on Libya's rival parties to commit to peace, and refrain from any action that may complicate the tense situation.
He added that China has noted that all parties in Libya have generally stayed calm, and exercised restraint at this critical moment.