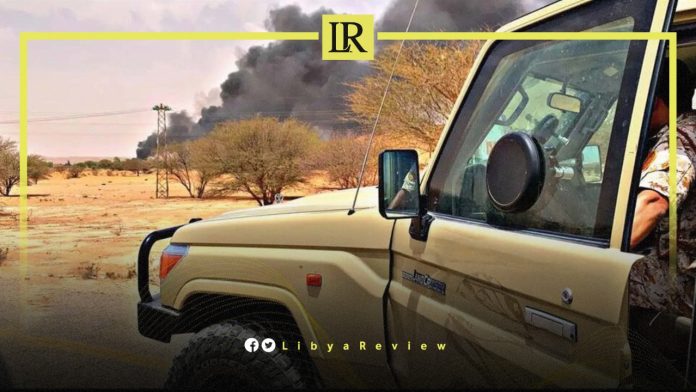 On Saturday, the Libyan elite army unit, known as Brigade 444, said that it had conducted a raid on human traffickers and fuel smugglers' dens in Nesmah town, some 400km South of Tripoli.
In a statement, the Brigade announced that its forces managed to free 11 foreign hostages, who were being tortured. They were also able to seize large amounts of weapons and ammunition during the raid.
The Brigade indicated that the gang had demanded the families of the kidnapped pay a ransom in exchange for their release.
It added that 8 suspects were arrested, in addition to 6 trucks used for smuggling fuel.
The phenomenon of disappearances, rape, kidnappings, and the killing of citizens has spread across Libya. The Libyan state ranked 20th among the insecure countries, according to the Numbeo Crime Index, as the war-torn country received the high rating of 62.00 in the Crime Index.
The capital, Tripoli, ranked 50th in the world, in the Crime Index classification for cities, and the second in the Arab world, with the Syrian city of Damascus coming first.
The city of Tripoli got 64.27 degrees on the Crime Index, as the classification considers Tripoli one of the cities with a high crime level.
The Crime Prevalence Index aims to assess the general level of crime in 135 countries around the world. The Crime Index is based on several criteria, such as murder, robbery, and rape.
Notably, Amnesty International recently urged the European Union (EU) to reverse its migration policy on Libya. It described the approach as helping return migrants to "hellish" conditions in the North African country.
In a statement, the International Organisation of Migration (IOM) said that more than 82,000 migrants were intercepted and returned to Libya. This has been happening for the past five years, since the EU began its cooperation with Libyan authorities to block migrants from reaching European shores, according to the Agence France-Presse (AFP).
In 2021, a total of 32,425 migrants were rescued and returned to Libya, while 662 died and 891 others went missing off the Libyan coast on the central Mediterranean route, the IOM said.