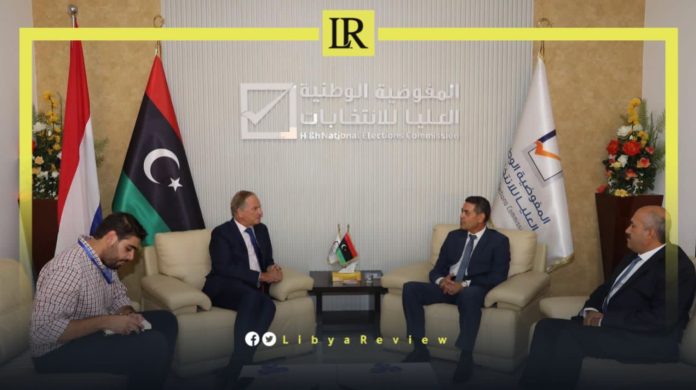 The Ambassador of the Kingdom of the Netherlands to Libya, Dolf Hogewoning held a meeting with the Head of the High National Elections Commission (HNEC) Emad Al-Sayeh, on Wednesday.
During the meeting, the Ambassador confirmed his support for Libya's electoral process.
In a tweet, Hogewoning said that he discussed future support plans for HNEC, and the challenges that face the electoral process.
On Monday, Acting Head of the United Nations Support Mission in Libya (UNSMIL), Raisedon Zenenga met the Tunisian Ambassador to Libya, Lassâd Laajili.
The two sides exchanged views on the political, security, and economic tracks, according to a statement issued by UNSMIL. They stressed the need to end the current mobilization of armed groups, and agree on a path to elections as the only way out of the political impasse.
Zenenga expressed appreciation to Tunisia for its role in promoting consensus among Libyan actors, and for supporting Libyan-led, and Libyan-owned dialogue. He also commended the Tunisian government's ongoing support for UNSMIL.
The United Nations Secretary-General, Antonio Guterres is in the process of selecting a new envoy for him in Libya, his Spokesman Stéphane Dujarric said in a press conference.
"The Secretary-General is doing everything he can to move forward with this process (appointing the envoy), and he is in constant contact with the Libyan mission (UNSMIL) on this issue," Dujarric added at the press conference.
He pointed out that the appointment of a new Head of mission in Libya "is not only a Libyan issue, but rather a process during which the UN Security Council grants a mandate based on an exchange of letters between the Secretary-General, and the Head of the Council."
"After we receive a letter from the President of the Security Council informing us that he has been informed of the issue, which means that there is no objection by any member of the Council, we will then reach the name of the candidate," he explained.
Dujarric added that the UN hopes to find a candidate acceptable to the parties concerned, noting that the organization has not yet announced the name of any candidate.
He noted that "the procedures for nominating a new Head of our mission in Libya are the same as when appointing any other head of UN mission. There are some challenges due to the existing and obvious divisions over the name of the new candidate."