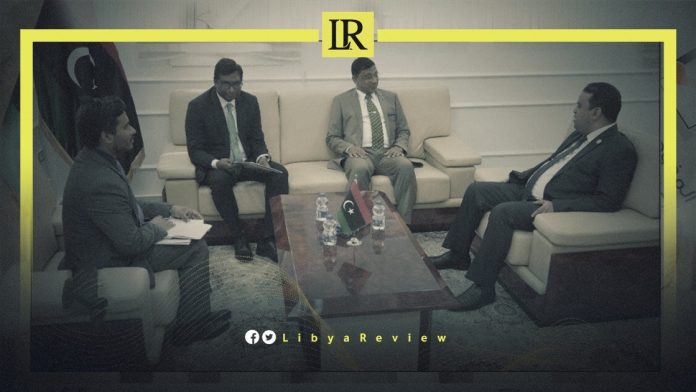 Libya's Minister of Labour, Ali Al-Abed met with the Ambassador of Bangladesh to Libya, Maj Gen S M Shamim-Uz-Zaman in Tripoli. They discussed "the relations that unite the two friendly peoples, especially in the field of manpower."
The minister stressed that the Libyan labour market includes a number of Bangladeshi workers, across various fields.
He confirmed the ministry's "keenness to settle the conditions of all foreign workers in accordance with the applicable laws and legislation, including Bangladeshi workers."
During the meeting, Al-Abed stressed the importance of "raising awareness of labourers so they are not victims of human trafficking, organized crime, and illegal immigration." He confirmed the role of the expatriate platform in this regard, and that "everyone must enter through the legitimate ways, and the Wafed platform that has officially started work."
The Ambassador praised the role played by the ministry regarding employment, and the Wafed digital platform.
He affirmed his desire to sign a memorandum of understanding between the two ministries of labour, to regulate the movement of workers. As well as noting that the Bangladeshi Minister of Labour will visit Libya in the near future.
On Monday, Al-Abed met with the French Ambassador to Libya, Béatrice le Fraper du Hellen. They discussed bilateral relations, especially opportunities in the training, rehabilitation, and employment sector.
The two parties reviewed the programs and projects that the ministry intends to implement. This is especially in the field of vocational training, and support for the ministry's training centers. They agreed to urge French companies operating in Libya to employ and train local staff.
According to the ministry's statement on Monday, Al-Abed affirmed the depth of relations between the two countries, noting the importance of continuing joint cooperation at all levels.